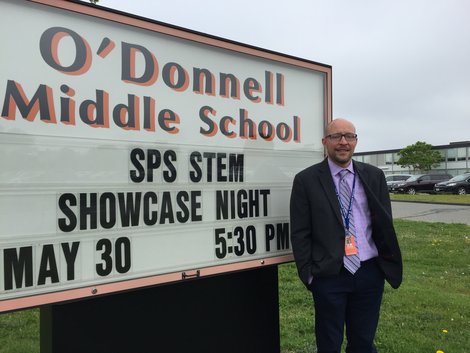 Story Series
News Feature
Both Massachusetts' 2018 middle and high school principals of the year are former Bears. And, they say their love of helping children is what makes their jobs so rewarding.
"There's an energy that comes from working with kids and an excitement working in an academic setting you don't get at a lot of places," said Matthew Colantonio, G'07, the principal of O'Donnell Middle School in Stoughton.
The Massachusetts School Administrators' Association (MSAA) recently named Mr. Colantonio and Bill Burkhead, G'09, who leads Monomoy Regional High School in Harwich, as principals of the year.
Mr. Burkhead and Mr. Colantonio, who said their awards reflect the accomplishments of many, were nominated by others in their school communities. The principals then completed an application that included essays and took part in interviews. They also submitted letters from students, parents, teachers and community leaders.
Mr. Colantonio, who earned a master of education degree in educational leadership from Bridgewater State, has spent his entire educational career in Stoughton and is in his sixth year leading O'Donnell Middle School. He fell in love with English and writing during college, yet decided to earn his teaching certification in the event he needed a backup career. But, Mr. Colantonio enjoyed student-teaching and was hooked on the profession. 
As he looked to enter school administration, Mr. Colantonio turned to Bridgewater State to further his education. He praised Bridgewater for offering a rigorous program that pulls from both theory and real-world experience in building the next generation of strong school leaders. 
At O'Donnell, he sought to expand classes and extracurricular programming. The school has added a spring musical, several new sports, a cultural club that celebrates diversity and other activities to serve students with varying interests and needs.
"Everything I've done since I've been here has been in an effort to create a positive school climate where kids love their school, teachers like to work here, and the community is proud of the middle school," he said.
Mr. Colantonio has also excelled at leading revisions to math and special education programming and working collaboratively, said Dr. Michael J. Connelly, assistant director of the MSAA.
Mr. Burkhead, who earned a certificate of advanced graduate study in educational leadership from Bridgewater State and teaches part-time at the university, received high marks for bringing together rival high schools – Chatham and Harwich –  when Monomoy Regional High School opened in 2014, Dr. Connelly said.
Uniting two schools with different cultures and belief systems was one the hardest tasks Mr. Burkhead has faced. It was also a challenge BSU prepared him well for with its focus on practical assignments and connecting graduate students with principals.
"We (brought the schools together) by starting out with a common belief that we all agreed on," he said. "We hung our hat on a home away from home, where everyone was important."
Mr. Burkhead, who was previously an administrator in Plymouth and New Bedford, knew from a young age he wanted to be a teacher and coach. He sees his role in administration as a way to help even more students. At Monomoy, he seeks to know the names of all 620 students and regularly writes notes to them. He is also thrilled to see former students succeed.
"Changing and impacting kids' lives for the better," is why he so enjoys his job. "It's very fulfilling when you can have an impact on someone else's life."