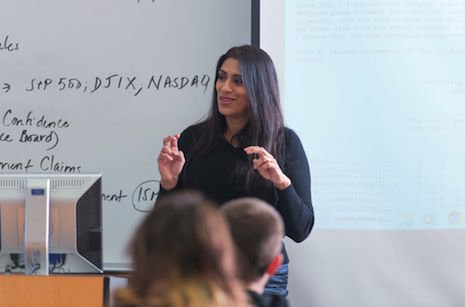 Story Series
News Feature
Dr. Madhavi Venkatesan will be heading to the Philippines for a brief lecture tour later thanks to a Fulbright-SyCip Distinguished Lecturing Award.
The 2017-18 Fulbright U.S. Scholar grant will provide the assistant professor of economics – who also serves as a faculty fellow for external affairs and a consultant for the Center of Economic Education — with the opportunity to deliver sustainable economic development lectures at major universities and organizations in the Philippines. 
"For me, I'm really focused on sustainable economic development, and this furthers my ability to have another leverage point to share my passion," said Dr. Venkatesan. "I don't think you can be an academic without being an activist, and here, you get an opportunity to share your activism."
The Fulbright Scholar Program is a diplomacy initiative sponsored by the United States Department of State, with funding from Congress.
The Fulbright Program is the flagship international educational exchange program sponsored by the U.S. government and aims to increase mutual understanding between the people of the United States and residents of other countries, according to Fulbright Scholarship Board Chairman Jeffrey Bleich. 
On the roster of former Fulbright alumni are 58 Nobel laureates, 82 Pulitzer Prize winners, 31 MacArthur Fellows and 16 Presidential Medal of Freedom recipients. 
Dr. Venkatesan's lectures will be arranged by the Philippine-American Educational Foundation.
Dr. Venkatesan credited the support of fellow BSU faculty Dr. Brian Frederick, Dr. Maggie Lowe and Dr. Dan Lomba as being crucial to her application process.
In addition to leading lectures in Manila and other cities, Dr. Venkatesan will have the opportunity to mentor students and engage with other academics in the Philippines. (Story by Charlie Peters, University News & Media)