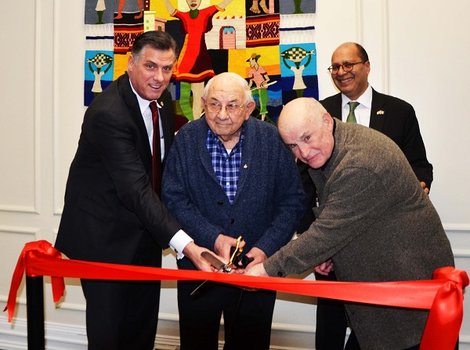 Story Series
News Feature
It was a full house in room 100 of Tillinghast Hall Wednesday when Bridgewater State University announced the space will now be known as the emeriti faculty lounge.
Aside from being an area for emeriti to gather, two offices are available and can be used as a workspace. The lounge is nominally for emeriti faculty, but is also open to all faculty, librarians and staff.
According to President Frederick W. Clark Jr., BSU is the first Massachusetts state university to offer its emeriti faculty their own space to work and connect.
"It's only fitting that we honor the faculty who have given us so much," said Dr. Karim Ismaili, provost and vice president for Academic Affairs.
Emeritus Club Chairman Steve Smalley said he couldn't be more thrilled and thanked the university for bringing the project to fruition.
"Having this available to faculty and staff, a place to come and have lunch located in a central location is important," he said. "Thank you. We all feel really good." (Story by Heather Harris Michonski) 
Do you have a BSU story you'd like to share? Email stories@bridgew.edu