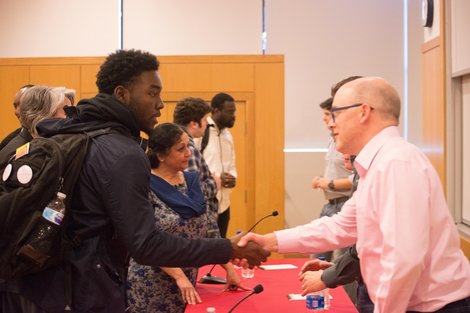 Story Series
News Feature
As Bridgewater State University moves closer to offering an engineering program in optics and photonics, companies like Draper Laboratory are looking to make connections.
Students eager to learn what it takes to work for a large, successful engineering company recently made their way to the Mohler-Faria Science and Math Center to hear from representatives from the Cambridge-based nonprofit research and development organization.
Draper designs and develops technological solutions to problems in the fields of national security, healthcare, energy and space exploration.
Senior physics major Adam Jabak attended the panel because of Draper's reputation, and was impressed that a company of that caliber is reaching out and talking with BSU students.
"So often you hear of larger companies hiring graduates from bigger, private schools," Jabak said. "I think having the new engineering program is going to be beneficial in getting organizations like Draper here."
The goal is to launch the engineering program in 2020, clearing the way for students to complete a 15-month, 30-credit certification program, which will include apprenticeships at participating companies.
BSU will also offer a new photonics minor, as well as a new concentration for physics majors.
Having that skill set will prepare graduates to work for companies like Draper, where, according to Stephen Smith, its director of engineering operations.
"People look to us to find solutions," he said. "We work collaboratively to perform a variety of interesting work that we get to sink our teeth into to come up with creative solutions."
Part of the learning process is to "get comfortable being uncomfortable," said Michael Crones, Draper's chief information officer.
"Put yourself in uncomfortable situations. We get thrown into different scenarios every day that we have to figure out, you learn how to work your way through it," Crones said.
Mechanical engineer Adam Parolin told students not to be intimidated when entering the workforce.
"There are things going on in our building that you can't possibly have experience in," he said. "There is still a lot of teaching. Having some skills up front is great, but having a willingness to learn, and a capability to learn, is better."
Vanessa Bryan, director of client services, also encouraged students to speak up.
"Ask for the opportunities, reach out to people that you know," she said. "We are invested in the academic process and internships. We want to talk to you." (Photos by Charlie Peters) 
Do you have a BSU story you'd like to share? Email stories@bridgew.edu