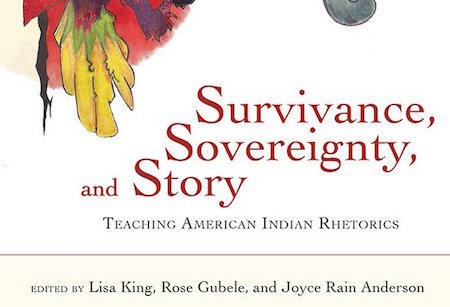 Story Series
News Feature
Survivance, Sovereignty, and Story: Teaching American Indian Rhetorics, a book coedited by Dr. Joyce Rain Anderson, has been recognized by The Conference on College Composition and Communication. The organization awarded the book an honorable mention in its 2017 Edited Collection category. 
Dr. Anderson coedited the book along with the University of Central Missouri's Rose Gubele, and Lisa King of the University of Tennessee. Survivance, Sovereignty, and Story: Teaching American Indian Rhetorics was published by Utah State University Press in 2015. More than a dozen contributors produced essays regarding the teaching of indigenous North American rhetorical and literary texts, along with related material on each work's associated culture and context.
The collection includes a chapter by Dr. Anderson titled, "Remapping Colonial Territories: Bringing Local Native Knowledge into the Classroom."
The book is vital in increasing student awareness of native people still living in New England, according to Dr. Anderson, whose contributions to the book were based on her experiences at Bridgewater State in fostering indigenous partnerships.
"Our aim has been to bring resources and pedagogical strategies to assist those teaching American Indian rhetorics, primarily at the college level," said Dr. Anderson, who also serves as the university's ethnic and indigenous studies coordinator. "My chapter discusses the important need and necessity of working with native peoples who are local to the area where one works."
The three editors have been invited to an awards reception at next month's 2017 CCCC Convention in Portland, Ore. 
"Needless to say, I am honored to be recognized by CCCC in this way. I have been an active participant in the organization for many years, and that relationship has helped me grow as a teacher, scholar and professional in the field of rhetoric and composition," Dr. Anderson said. "More important, however, is the recognition that honors indigenous studies and rhetorics, and for that I am grateful." (Story by Charlie Peters, University News and Media)