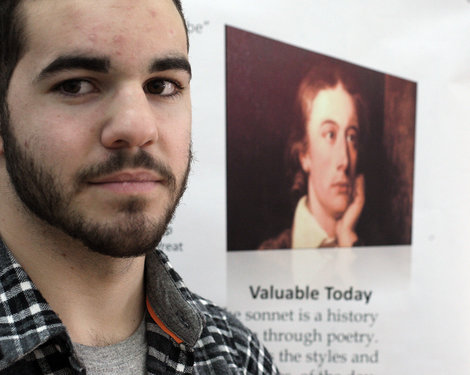 Story Series
News Feature
Throughout the day on Monday more than 600 undergraduates filled the Rondileau Campus Center to present the findings of their research. They included Jordan Galanis, who has only been a BSU student for a mere 12 weeks. Her research looked at the reaction on Twitter to the protests in Charlottesville last August.
"I took apart what was said online and broke down who these people really were," she said. "I've never done research in this way before."
BSU's undergraduate research program was designed to be inclusive, focusing on recruiting students who may never have imagined themselves conducting research and presenting their findings at symposia and conferences. Students like Jordan, for instance, and many others who may be holding themselves back due to factors real, imagined or self-imposed.
"It's often students who have a legacy of higher education who get involved in doing research, because they're being coached to seek out such opportunities as a pathway to graduate school," said Dr. Jenny Shanahan, assistant provost for high-impact practices, which includes the Adrian Tinsley Program for Undergraduate Research (ATP). "What we've been doing since the beginning is ensuring that all of our students have access to this high-impact practice. We have been thinking intentionally about our recruiting efforts for these opportunities, and making sure we have in place the support to enable a diversity of students to participate in the program."
Getting students involved, especially early in their time at BSU, pays real dividends. For instance, a first-year student like Jordan Galanis is five times more likely to apply for an ATP research grant in her junior year. 
"The mid-year symposium encourages students from their first semester on campus to get up in front of people and share the work they're doing," Dr. Shanahan said. "It builds their confidence and it also gives them a glimpse into a set of professional practices they might have thought were beyond their reach.
There are other factors that are addressed as part of the ATP program, including the provision of funding necessary to allow students to do research in lieu of a part- or full-time job.
"In most of the world, especially in the United States, the students who are accessing undergraduate research continue to be on secure enough financial footing. They have the economic security to take on volunteer research positions," Dr. Shanahan said. "So, they're getting those opportunities more often than those students who have to work and help pay for schools."
The overarching goal is to provide a level playing field allowing for student success. Put another way, it's about introducing equity into high-impact programs.
There are no awards for such things, but success can be measured by the amount of diversity within the undergraduate research program, as well as the increasing number of students involved: The ATP program has been growing annually since its inception 12 years ago. 
General signs of success abound: A few years ago, the Council on Undergraduate Research (CUR) cited BSU as one of 57 institutions among its nearly 900 member institutions as a "leader" in undergraduate research. Also, the university was recently selected as one of 12 among 90 institutional applicants to receive a CUR-National Science Foundation grant to be used for embedding research in the curriculum, starting in chemistry and psychology. "The award was based on BSU's readiness for scaling up undergraduate research," Dr. Shanahan said.
However, perhaps there's no greater sign of the undergraduate research program than the esteem it is held in by other institutions around the nation and around the world. As of this writing, Dr. Shanahan is in Australian sharing with educators from 12 countries ways to build more equity into their own programs. She's done this at many conferences Stateside, and has done likewise in Canada three times in the past 18 months.
At each stop, she teaches other institutions how to conduct an undergraduate research program similar to BSU's. (Story by John Winters, G'11, University News; Charlie Peters contributed to this story)