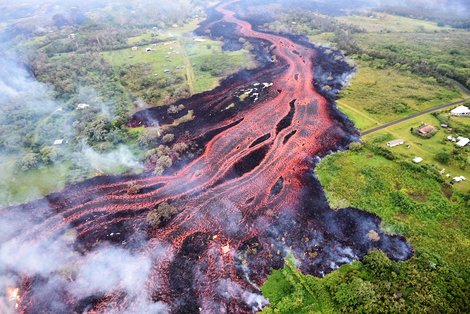 Story Series
News Feature
When most people hear about a volcano erupting and producing rivers of lava, they run in the opposite direction. Geology professors Michael Krol and Richard Enright wouldn't think of doing such a thing. 
In fact, at the end of June the two traveled, on a trip sponsored by Bridgewater State University, to "the Big Island of Hawaii," where for ten days they studied active hotspot volcanism and the recent eruptions associated with the Kilauea Shield Volcano. 
"This was a once in a lifetime thing. Typically you don't get to witness active geological processes like this," said Dr. Krol. "It's an experience we get to take back into the classroom."
The volcanic materials the pair of faculty members collected from their visit will be used to help engage students in undergraduate research as well as upper-level geoscience courses.
"It's one thing to watch a video on YouTube," Dr. Krol said. "Being able to share with students and show them this what I collected, it provides more imagery and details."
Over the last 31 years Dr. Enright has led 10 field excursions with students to visit the active and inactive volcanic sites in Hawaii. 
The professors' recent trip wasn't just to observe and collect samples, but also served as a reconnaissance mission to determine if the impact of the eruption would thwart next spring's excursion course. 
Unfortunately the area has been too compromised and students will not be able to travel to Hawaii next year. 
At last count some 720 homes on the island have been destroyed. The largest fresh water waterbody on the island, Green Lake, vanished when lava flows completely evaporated it.
"There's not going to be anything for the students to see in that area," Dr. Enright said, referring to one of the reasons next year's trip won't take place. "Roads are destroyed, they're buried."
Instead other sites will be considered, including Iceland, Mexico City and the Southwestern United States.
The professors will continue to follow the Kilauea eruption. It's unclear how long the volcano will emit lava, but it will be at least a year before the area is accessible, Dr. Enright said. (Photos by Professor Enright)