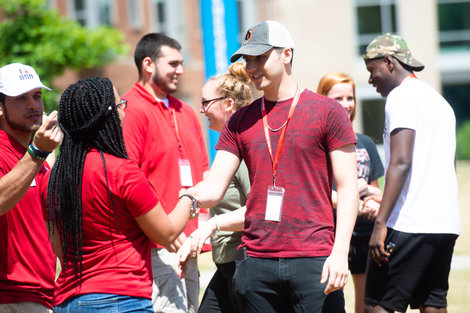 Story Series
News Feature
Bridgewater State University is improving freshmen and transfer students' first-year experience with help from an approximately $45,000 grant.
"The data shows that students, when they enter an institution and have a good experience immediately, are able to build on that throughout their time here and are able to have a better experience," said Dr. Rita Miller, dean of undergraduate studies.
They are also more likely to complete their degree at BSU.
The grant was received from the Davis Educational Foundation, established by Stanton and Elisabeth Davis after Mr. Davis's retirement as chairman of Shaw's Supermarkets Inc. The foundation awards money to institutions around New England.
The Bridgewater grant fits nicely in the foundation's goal to improve teaching and learning, said Leanne Greeley Bond, the organization's director of grants and programs.
BSU administrators and faculty "clearly were solidly behind this proposal and committed to providing the best experience they can for first-year students," she said.
Bridgewater will tap the expertise of employees and students to enhance experiences inside and outside the classroom. 
English and philosophy courses new students take will be revamped, emphasizing skills such as revising writing and constructing arguments. Faculty who teach the classes will also participate in paid professional development, said Dr. Roben Torosyan, director of teaching and learning and a part-time philosophy faculty member. 
Meanwhile, a new committee will bring together representatives from offices such as New Student and Family Programs, Transfer Services, Admission and the Academic Achievement Center.
"We have great programs offered by different offices," Miller said. "We want to make sure the first-year experience we provide for students is coherent and consistent." 
The grant, which should lead to improvements by the fall, also supports travel to conferences so BSU officials can learn about best practices around the country.
This effort is particularly important at Bridgewater, given its many first-generation, low-income and minority students.
"They're especially at risk of not being able to (stay at a university)," Torosyan said, pointing to work, family and other obligations. "They need our special focus."
Do you have a BSU story you'd like to share? Email stories@bridgew.edu.