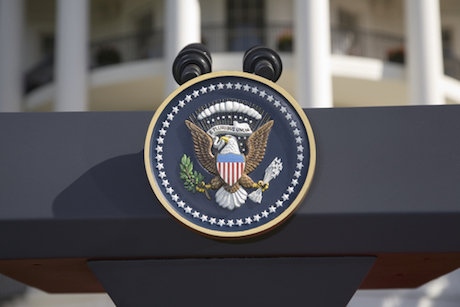 Story Series
News Feature
BSU's Center for Democratic Governance and Leadership will host a series of talks examining the first 100 days of the Trump Administration. Each lecture will be devoted to a particular topic and delivered by a BSU faculty member with expertise in that particular area.
Below is the schedule of lectures, as well as a description of each. The lectures will be held in the Heritage Room of Maxwell Library.
Trump Administration: The First 100 Days
Tuesday, April 18 
Campaign Rhetoric versus Governing Rhetoric, Dr. Jason Edwards, associate professor, communication studies, BSU, 9:30 – 10:45 am.
The 2016 presidential campaign was one of the most polarizing in recent modern history. When Donald Trump won the presidency he promised that he would govern for all of the American people. Pundits, policymakers, and politicians expected him to tone down his polarizing rhetoric and move to a discursive tone of governing. The question is has Donald Trump done so? Has he moved from a campaign rhetorical style to a governing rhetorical style? What does that governing rhetorical style look like in a world of social media, 24-hour news cycles, and constant scrutiny over every word that has been said? In this presentation, Dr. Edwards will try to set some of the parameters of the differences (if any) between campaign and governing rhetoric and what rhetorical style Trump has engaged in over the past 100 days of his presidency.
Wednesday, April 19
U.S. Foreign Policy, Dr. Inkyoung Kim, assistant professor, political science, BSU, 11:15 a.m – 12:05 pm.
Dr. Kim will discuss the general direction of U.S. foreign policy under the Trump Administration and specific relations with other countries. Her presentation covers changes in U.S. leadership in the world from "Bush'era adventurism" and the "perceived weakness of the Obama era" to strength as the primary goal. The presentation also compares the Trump Administration's policy priorities with those of previous presidents.
Thursday, April 20
Presidential-Congressional Relations, Dr. Brian Frederick, associate professor and chairman, political science, BSU, 11 a.m. - 12:15 pm.
President Donald Trump came into office with an ambitious agenda to repeal the Affordable Care Act, reform the federal tax code, pass major infrastructure improvements and build a wall on the U.S.-Mexico border. Despite his lofty goals the President has encountered a much more hostile response on Capitol Hill than many observers expected. Dr. Frederick's presentation will explain why President Trump has experienced such difficulty in early dealings with Congress and project whether he can improve his relations with the legislative branch during the remainder of his presidency.
Monday, April 24 
U.S. Supreme Court Appointment, Dr. Mark Kemper, associate professor, political science, BSU, 11 a.m. – 12:15 p.m.
Dr. Kemper will examine the jurisprudential perspectives of President Trump's nominations to the federal judiciary, with special attention given to the jurisprudence of "originalism." The increasingly contentious politicization of the judicial appointment process will be discussed, and possible solutions to that problem will be offered. The lecture will conclude by exploring how President Trump's nominations to the federal courts are likely to impact legal policy in several high-profile issue areas.
Tuesday, April 25
Immigration and National Security, Dr. Jordon Barkalow, associate professor, political science, BSU, 12:30 – 1:45 p.m.
Arguably, no issue has garnered as much attention during the first 100 days of the Trump presidency as his two unsuccessful efforts to change immigration policy in the United States. This presentation provides an analysis of President Trump's executive orders and the arguments informing them. The analysis raises questions concerning the constitutionality of the executive orders and of presidential power in this area of policy more generally. Moreover, consideration of the proposed immigration restrictions indicates that the proposals are not based on fact and that enacting the immigration restrictions would not have good policy consequences.
Economic Policy, Dr. Madhavi Venkatesan, assistant professor, economics, 2 – 3:15 p.m.
Climate change, immigration, trade, government spending, all seemingly independent but nonetheless with a common nexus: the economy. Dr. Madhavi Venkatesan will provide an economic evaluation of Trump's policies and the administration's budget, focusing her comments to present and anticipated near-term actions and their potential impact to the US. Economy.
Wednesday, April 26
Veteran Affairs, Dr. Melinda Tarsi, assistant professor, political science, 1:50 p.m. – 3 p.m.
Dr. Melinda Tarsi will address the debates concerning the state of veterans' benefit programs in the U.S., and will analyze the Trump Administration's plans (and recent actions) to improve the Veterans' Administration. Dr. Tarsi will also present results from a recent survey experiment designed to test how members of the public form assessments about how well the VA is performing after President Trump's inauguration. 
Thursday, April 27
Healthcare Policy, Dr. Kevin Donnelly, associate professor, political science, BSU, 9:30 – 10:45 a.m.
The "repeal and replacement" of the Affordable Care Act was a pillar of Donald Trump's campaign for president and has been a steadfast commitment of most Republican policymakers since passage of the law in 2010.  Yet, despite Trump's win to occupy the White House and Republican Party control of congress, dismantlement of the Affordable Care Act has thus far been elusive.  A mix of shifting public opinion, competing factions within the Republican Party, and sheer legislative complexity help to explain this latest compelling development in the history of health care policy in the U.S.  These items will highlight Dr. Donnelly's discussion of health care policy during President Trump's first 100 days in office.