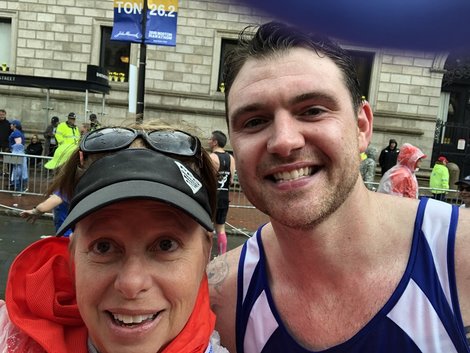 It makes me feel good that many people value my service which motivates me to continue my service within the profession of athletic training.
Story Series
News Feature
It's validating when your peers and colleagues recognize your efforts. And Dr. Kimberly Wise, athletic training clinical education coordinator at Bridgewater State University, knows first-hand how it feels.
Wise was recently named a recipient of the 2019 National Athletic Trainers Association (NATA) Service Award. It recognizes athletic trainers who volunteer in their community.
"I'm honored to receive this recognition and give thanks to my peers," Wise said.
Dr. Suanne Maurer-Starks, athletic training program director, nominated Wise for the award.
"We wouldn't be able to do what we do without her in her role as clinical education coordinator," Maurer-Starks said.
In 2017, Wise was integral to the university's initiative to place naloxone, better known as Narcan, the anti-overdose drug, in 50 locations across campus, including inside residence halls.
In response to President Frederick W. Clark Jr.'s call to take a leadership role in the national opioid crisis, the BSU Athletic Training Program hosted a 175-participant symposium to address the issue.
During the symposium substance abuse was addressed and participants took part in cross-training activities, where a live simulation of an overdose took place. From that event, BSU began the process of installing the Narcan on campus.
"Being the flagship of the Massachusetts State College system, the university paved the way as the first school in the nation to implement a public-access naloxone program," Wise said. "As such naloxone was placed in automatic external defibrillator stations across campus to increase visibility and accessibility when needed."
From 2012-2018, Wise served as a medical volunteer at the finish line for the Boston Marathon, always allowing a number of BSU athletic training students to join her.
"This venue is highly sought after and the volunteer selection process is rigorous," Wise said. "I believe it is vital to our community, profession and the pre-professionals to be active with such opportunities because it instills values and educational skill sets that are difficult to teach in a sterile environment such as a classroom."
According to Maurer-Starks, Wise also has expanded clinical placement for BSU students, including with the New England Patriots, Chicago Cubs and FC Dallas pro soccer team.
In March 2016, Wise was named to the District One Professional Education Committee for NATA. The committee emphasizes best practices in didactic and clinical education, faculty preceptor development, and the overall enhancement of professional education.
At the state level from 2013-2015, Wise co-chaired the Continuing Education Committee for Athletic Trainers of Massachusetts, where she was responsible for identifying strategic properties and objectives for continuing educations and implementing strategic plans.
It's no surprise that with Wise's service and experience Maurer-Starks was compelled to nominate her for the 2019 NATA Service award.
"It makes me feel good that many people value my service which motivates me to continue my service within the profession of athletic training," Wise said.
 Do you have a BSU story you'd like to share? Email stories@bridgew.edu