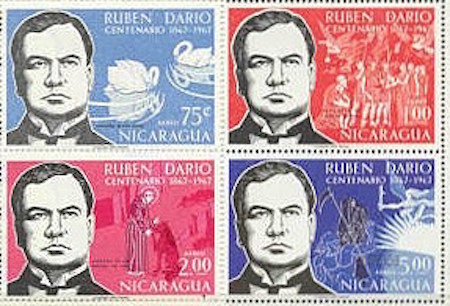 Story Series
News Feature
Dr. Alba Aragón, assistant professor in both the Global Languages and Literatures and English departments, recently traveled to Spanish Embassy in Washington, D.C., to discuss the historical and literary legacy of Rubén Darío.
Darío is an influential Spanish-language poet, and Professor Aragón has not only studied his work, she is credited with having discovered some previously unknown magazine articles he'd written.
She was joined onstage at the embassy by Professor Gwen Kirkpatrick of Georgetown University, and Nicaraguan poet Milagros Terán. The event, held March 1, commemorated the 150th anniversary of Darío's birth.
"I'm very grateful to the Embassy of Spain for inviting me to this celebration of Rubén Darío's legacy," Professor Aragón said. "It was exciting to discuss my findings about him in our nation's capital. I felt honored to converse about such a cherished writer with Professor Gwen Kirkpatrick, poet Milagros Terán, chief of the Library of Congress Hispanic Division Georgette Dorn; Nicaraguan Ambassador Francisco Campbell Hooker; and Spanish Ambassador Ramon Gil-Casares."
Darío, pseudonym of Félix Rubén García Sarmiento (1867–1916), was an influential Nicaraguan poet, journalist and diplomat. Known as the father of the Spanish American literary movement known as Modernismo, he revivified and modernized poetry in Spanish on both sides of the Atlantic through his experiments with rhythm, meter, and imagery, along with his artistic resourcefulness and technical perfection.
The event was sponsored by the Spanish Embassy, Georgetown University, the Embassy of Nicaragua and the Library of Congress. (Story by John Winters, University News & Media)