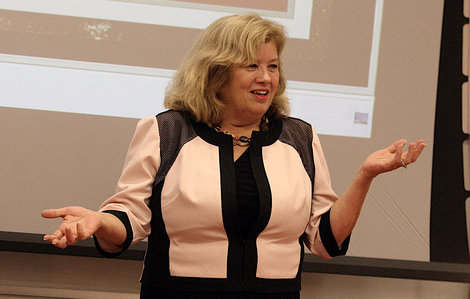 Story Series
News Feature
Whenever Dr. Margaret Brooks greets a new class of students at Bridgewater State University, she sees something very familiar in the faces filling the classroom: Herself.
A class full of BSU students typically includes young people balancing work with studies, aiming to be first in their family to graduate college, or raising children of their own. Brooks, a high school dropout turned Ivy League graduate, relates to their challenges because she's lived them.
"This is my home," said Brooks, who has taught economics at Bridgewater State for more than three decades. "Bridgewater is filling an important role in these students' lives and I wanted to be part of that."
Attending college herself was almost an insurmountable obstacle for Brooks, who faced poverty growing up in Warwick, Rhode Island, as one of nine children. She recalls having only two outfits per school year and helping her father with his job as a janitor. She left high school despite being an honors student.
"Growing up in extreme poverty, it was just a very difficult time," she said. "Ultimately, though, I kept my dream of going to college."
She received her GED, became a first-generation college student, and kept going – eventually earning a doctorate degree. Brooks, who pursued higher education while raising her own children, began at Community College of Rhode Island. A professor and the college's president recommended her for admission to Brown University as an undergraduate through the Resumed Undergraduate Education Program. Brooks graduated magna cum laude with a degree in economics. She subsequently completed her master's and doctoral degrees in economics at the university. 
Brooks, who was highlighted in Providence Business News and recognized by the newspaper at its 2019 Business Women Awards, does more than teach. She also advocates for financial literacy education at all levels through her leadership of the Rhode Island Jump$tart Coalition, the Rhode Island Council for Economic Education, and BSU's Center for Economic Education and Office of Financial Literacy Initiatives.
"Students need information to make good financial decisions," she said.
Brooks traces her passion for economics back to childhood discussions with her father about the news of the day. She sees her work as a professor as a way to influence students and make the world a better place. 
Her story of perseverance is also a lesson in itself for BSU students.
"Just keep trying, just keep knocking on that door. If they don't answer, keep knocking. If they still don't answer, find another door," she said. "You'll reach your goal."
Do you have a BSU story you'd like to share? Email stories@bridgew.edu.