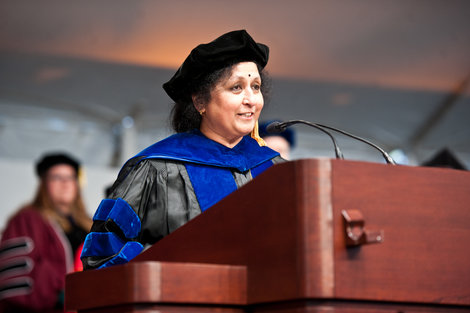 Story Series
News Feature
Dr. Uma Shama sees math everywhere – once even when a large truck was barreling toward her car.
Early in her teaching career at Bridgewater State University, Dr. Shama was driving near campus when a truck driver lost control. Skills she honed through years of studying math took over, and she assessed the situation logically and decided her best option was to pull as close to the curb as possible.
"In that fraction of a second, I could imagine what was happening," Dr. Shama said, crediting her mathematics background with helping her to avoid a more serious crash.
Dr. Shama, a mathematics and computer science professor, has been a fixture on the Bridgewater State campus since 1987.  However, many BSU students only encounter her twice in their academic careers – at convocation as freshmen and at commencement when they leave as new graduates. That's because for the past decade, Dr. Shama has served as university marshal, a role she will fulfill again at this week's commencement.
"It is such an honor to be asked to serve as university marshal because I get to see students and welcome them at the beginning of their journey," she said of duties that include leading dignitaries onto the stage and overseeing other aspects of the ceremonies. "At the end, I get to meet them with their families and friends to see their success."
Dr. Shama, who lives in Bridgewater, came to the United States from India to pursue graduate school at the University of Connecticut. She fell in love with BSU's focus on students. 
She co-founded the university's faculty and librarian development program, which is now known as the Center for the Advancement of Research and Scholarship, and is co-director of the GeoGraphics Laboratory, which for decades has been on the forefront of public transportation mapping innovations, across Massachusetts and nationwide.
Dr. Shama has contributed to the effort to digitize bus routes and provide customers with real-time tracking before programs by Google and others made those features commonplace. She has focused on public transportation for people with disabilities: From making it easier for the blind to know what bus is arriving, to optimizing services to reduce costs for agencies. 
Students participate in these projects through the GeoGraphics Lab, and inspire her to continue her work in the classroom. She aims to dispel the negative connotations they sometimes have about math and show them that it is part of everyday life – even when facing an out-of-control truck.
"I want to bring it to people and say this is something real and logical," she said. (Story by Brian Benson, University News)