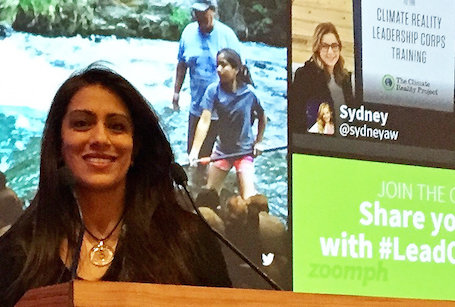 Story Series
News Feature
Individuals from several nations, including Pakistan, China, Indonesia, England, Hungary, Canada, Mexico, and the Philippines, as well as from across the United States, gathered together in Denver earlier this month to join in one common effort: the protection of life on our planet. I was fortunate to be among them.
Former U.S. Vice President and Nobel Peace Prize recipient Al Gore led a group of almost 950 individuals (3,000 applied for the opportunity to attend) through the science, the visible but inconsistently reported catastrophes, and emerging risks associated with man-made climate change. The meeting represented the start of the twelfth operating year of the Climate Reality Project, a non-profit organization founded by Mr. Gore to demonstrate the urgency for action to address and combat the man-made impact to the earth's climate and ecosystems.
Ninety-seven percent of climate scientists agree that man-made climate change is a reality. Carbon pollution is warming our planet and prompting weather volatility and extreme droughts, flooding, wildfires, and superstorms. Right now, scientists predict that the present rate of carbon emissions will lead to an average increase in global temperatures by 4°C or 7.2°F, by the end of the century. The increase will exacerbate presently observable water shortages, salination of agricultural lands, loss of landmass, extreme temperatures, vector-borne diseases, famine, human and non-human geographical displacement and the frequency and volatility of weather-related events. Land temperatures have already exceeded 140°F in some areas of the world, affecting the poor and most vulnerable.
The former vice president focused the discussion on the significance of an immediate shift away from fossil fuels as the needed first step of intervention, stating, "With a shift to a clean-energy economy, we can still create the sustainable future we all want. But we have to act now."
At a time when many people have experienced a sense of helplessness with respect to individual impact, Mr. Gore stressed that every action matters: "Every individual is powerful. Millions acting together are unstoppable. At The Climate Reality Project, we're leading a global revolution that's 3.5 million strong – and growing. We're working to build a cleaner, healthier future, and it's within our reach. But it's going to take all of us acting together to compel our friends and our leaders to make this happen."
The Climate Reality Project is active on college campuses and there are opportunities to get involved at Bridgewater State University. Please contact Dr. Madhavi Venkatesan at mvenkatesan@bridgew.edu to learn more.