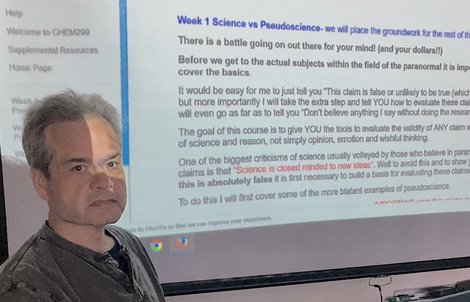 Story Series
News Feature
Are ghosts real? Can psychics really talk to the dead? Do crystals truly have healing powers? 
For the past three years, Joseph Keen has asked students enrolled in his Science and the Paranormal course to answer these questions with one big caveat: they must rely on scientific evidence. 
The popular online second-year seminar takes a close look at unusual claims and encourages students to challenge their validity. The class is offered this summer, and also taught during both fall and spring semesters.
"A lot of students are afraid to take a science-based course," Mr. Keen said, but because of the subject matter, he added, his paranormal classes are often full. 
The course is not designed to use science to prove that paranormal phenomena exist, instead its intention is to debunk popular but bogus claims. 
"When you look at the paranormal through science, there is almost no evidence found," Mr. Keen said. "People believe what they see without any evidence."
A desire to get students to recognize that not everything they read or see is true, is what inspired Mr. Keen to create the course.
"Today, anybody can make a website; it's hard to know who to believe," he said. "There are ways to be relatively sure that what you're looking at is real."
Through online videos, and other resources, Mr. Keen demonstrates how easy it can be to fake paranormal phenomena. 
Students are introduced to Emily Rosa, a 9-year-old who proved in 1996 that Reiki has no merit thanks to a blind experiment she created for a school science fair. Her therapeutic touch study results were later published in the Journal of the American Medical Association.
During the course, Mr. Keen explains that the placebo effect doesn't heal, but helps people to "re-focus their awareness to get an expected result." He also shares stories about how international space stations and satellites have been mistaken for UFOs, and that ecological studies prove there is no scientific evidence that Big Foot or the Loch Ness Monster are real.
"I'm not so close-minded to ever say something doesn't exist, but I need natural evidence to explain it," Mr. Keen said. 
By the end of the course the primary objective is to help students see that they are capable of filtering through what is real and what isn't through scientific study. 
"If evidence exists, then you can believe it," he said. (Story and photo by Heather Harris Michonski, University News)