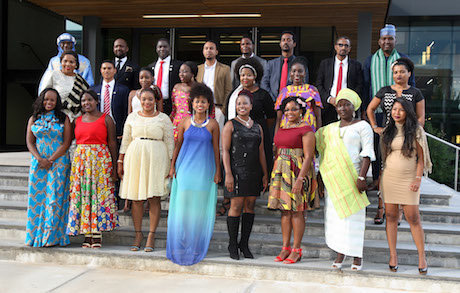 Story Series
News Feature
Community partners and members of the campus community gathered to bid 25 Mandela Washington Fellows a fond farewell, as their six-weeks on campus came to a close.
The fellows were greeted at the farewell dinner by a standing ovation in the Rondileau Campus Center Ballroom by more than a hundred invited guests that included many who'd worked and volunteered during the Institute in Public Management program attended by the visitors. The audience included peer collaborators, governmental and nonprofit leaders who hosted site visits, residents of the town, and faculty and staff of the university.
"We have so enjoyed these six weeks," said Dr. Wendy Haynes, director of the institute. "This evening is bittersweet, actually. We have fallen in love with our fellows – we don't want them to leave. We were asked to impart knowledge to the fellows, but it has been a reciprocal experience."
President Frederick W. Clark Jr. thanked the International Research and Exchanges Board. Inc. for selecting Bridgewater State University – the only university in Massachusetts chosen for the program this year – to host one of the institutes offered by more than 40 higher education institutions across the United States. This year, more than a thousand young African leaders partook in the program.
Those who'd spent six weeks at BSU kept a hectic schedule.
"From the governor to legislators to community partners to nonprofits to sports teams … it's exhausting to look at what you've done – Bridgewater to Boston to New York to Washington … thank you to all of our partners who helped you with that experience," the president said.
State Sen. Marc R. Pacheco (D-Plymouth-Bristol), told the fellows they were "the talk of the statehouse" during Mandela Day observances on July 18. "When something different happens at the statehouse, there's a buzz that goes on," he said. "Just in its second year, that level of recognition bestowed on this program has a lot to do with the quality of faculty and staff at this university. Everyone at the statehouse knows that. It was a special honor for us. We had the opportunity to have the future leaders of Africa, and of the world, at this institute"
Fellow Andry Rasoanindrainy of Madagascar was selected by his peers to present a videotaped version of his "ignite speech" at the farewell event during which he urged all fellows to become "the servant-leaders our continent needs so desperately." Each fellow is required by the program to write and videorecord such a speech, encapsulating what they've learned. Mr. Rasoanindrainy's speech will also be presented in Washington, D.C. 
Chisomo Kaufulu of Malawi was selected to present reflections from the fellows regarding their time spent at Bridgewater State University. "Your warm-heartedness, your willingness to serve, your mission statement – 'not to be ministered unto but to minister' –  is a true reflection of who you are – your willingness to serve," she told the campus community.
"Six weeks ago, we came into this great institution of learning … we had an open heart, we gave ourselves up to learning, to moments of reflection. We shared strategies and best practices and we got inspired. We were inspired because this fellowship reminded us of the power within us as individuals to make change."
Each fellow was presented with a certificate of completion, which also made them honorary alumni of Bridgewater. 
"You've seen America … you've seen our (BSU) people, our values the way we work with people, and our students and that's the window I hope you remember looking through and I hope you find that was the best window of America," President Clark told the fellows. "You've really touched our hearts. You are now a part of us. When you're an alumna or an alumnus of Bridgewater State you're a part of our family and families stay together to help each other to succeed. Your dreams are powerful. You are powerful. And you will fulfill them."
Eugene J. Durgin Jr., chairman of the university's Board of Trustees, said at graduation ceremonies each spring, he implores Bridgewater graduates to come back. "That would be very difficult for you, but I always urge our graduates to think about coming back if only in a daydream. I would encourage you to think about us in your daydreams from time to time – the information you were provided, the friends that you've made – I think that daydream will elevate your day."
Two special performances by the fellows included Flavia Nabagabe of Uganda, who read her poem, "I Refuse to Say Goodbye." She was followed by Loyiso Makapela of South Africa, who was joined by Fareeda Serwaa Brobbey of Ghana, Maria Rosa Celeste Segunda Dias of Angola, Enoch Owusu Sekyere of Ghana, Jimmy Langford Williams of Libera and Mr. Rasoanindrainy to sing "My Afrikan Dream," a song from a South African artist that, Loyiso said, resonates in both the continent of Africa and in the United States.
In my Afrikan Dream, there's a new tomorrow
My Afrikan Dream is a dream that we can follow
And though it would seem my hope's an illusion
My Afrikan Dream is an end to the confusion
 The fellows then headed off on the next leg of their trip to the United States – a week in Washington, D.C. (Story by Eva T. Gaffney, G '01, for University News & Media)