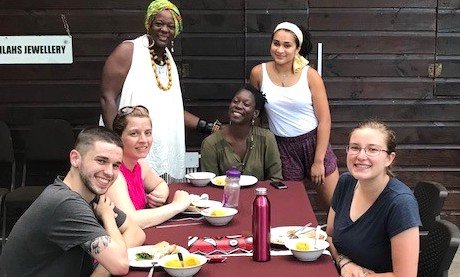 Story Series
News Feature
Just before Ryan O'Connor, '19, left on a four-week journey to Trinidad, his mother asked him a rather unnerving question: "Are you sure you want to do this?"
That didn't ease Ryan's pre-trip jitters. But, the Bridgewater State University English major had nothing to worry about.
"As soon as I got there, within hours every single fear I had was dashed. Every single person was friendly," said Ryan, who is from Braintree and minoring in Latin American and Caribbean studies. "Everyone was taken care of. I know I was taken care of."
In fact, Ryan, Christine Paquette, '20, and Taylor Loyd, '19, felt like villagers during their stay this summer at Bridgewater State's first international field school. The school is in Fondes Amandes, a community in the foothills of Trinidad's Northern Range. They played ping-pong with children, hiked, planted trees, dined on the Caribbean island's cuisine, and woke up to the squawking of parrots.  
"One of the promises of a field school is you learn by immersion. You learn by doing," said Dr. Diana Fox, a Bridgewater State anthropology professor who spearheaded the launch of the field school. "You aren't even aware of how much you pick up."
The three undergraduates took part in what was the first official Trinidad field school excursion after two pilot trips. The school is a partnership between BSU, Caribbean Educators' Research Initiative and Fondes Amandes Community Reforestation Project. The research initiative provides mentors for the students while the reforestation project transforms barren land into a thriving forest and prevents forest fires. 
Dr. Fox first visited the island in 2004 and fell in love with it. She built a relationship with Akilah Jaramogi, the reforestation project's co-founder. Kemba Jaramogi, an operating manager and technical director of the reforestation project, also works closely with students.
The field school took shape in recent years. Dr. Fox hopes it serves BSU students from many majors. 
"It's something really cool to get involved in," said Christine, who spent two weeks in Trinidad. "There's always something new you can learn from other cultures."
Taylor, who spent three weeks there, said the planting of trees illustrates the importance of small actions, which make a huge difference when done by many people.
Taylor, who is from Halifax and is majoring in public health and sociology with a concentration in global studies and social justice, researched Trinidadian food from cultural, economic and social perspectives.
Ryan studied Trinidad's culture since the island nation gained independence from the United Kingdom in 1962. 
Christine, an elementary education and anthropology double major from New Bedford, hopes to become a teacher. In Trinidad, she researched how living in an eco-community shapes children's values. 
She said she learned to "really just keep an open mind about different cultural contexts children are growing up in." 
Ryan, Christine and Taylor want to go back to Trinidad. The trip inspired Taylor to focus on her passions just as the Trinidadians she met focus on improving and caring about their environment.
"I would recommend every single student here to go (to the field school)," Taylor said. "I can't even describe how amazing the opportunity is for personal growth, academic interests and cultural exposure."