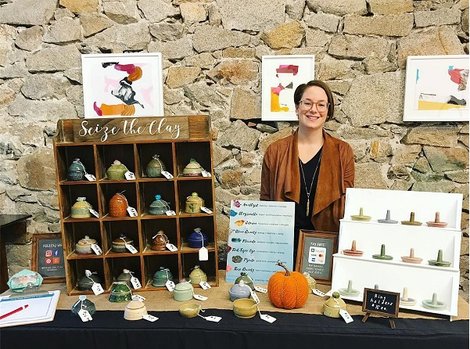 Story Series
News Feature
It was Hannah Powers, '18, last semester of college and she was uncertain as to what the future held.
"I was terrified I wouldn't get a job in my field," Powers admitted.
The art major knew she loved working with ceramics and, as an undergraduate had obtained an internship with Mudstone Studios, a communal ceramic studio in Warren, Rhode Island.
Beyond that, she struggled to find the answers that would lead her down the right path.
Shortly before graduation, Powers saw an announcement on Facebook that the Ricciardi School of Business was hosting the campus' first-ever Shark Tank competition, where just like the popular television show, students pitch business ideas to a panel of judges.
"I thought it might be worth it, even if I didn't win to show people what I'm working on and get advice," Powers said.
What she was working on was creating and selling ceramic jars containing holistic gemstones through her Seize the Clay Studios. She wanted to expand the small online business. 
During the BSU Shark Tank, Powers pitched her proposal to the panel of judges, made up BSU alumni and members of the university's Foundation Board.
After the judges deliberated, Powers learned she was one of the first place winners and would receive $1,500 to put toward her business.
"Once I got the money I opened a separate business account. Everything I purchased for the business came out of that account," she said.
The money was put to good use, covering promotional items, materials, and rental space at Mudstone Studios.
"This award meant I could just go for it, it's been amazing," Powers said.
The young artist has also expanded her product line beyond the gemstone jars to include ring holders, incense holders, plant hangers and candle holders.
She is grateful to the Ricciardi School of Business and to the judges who saw Seize the Clay's potential. If Shark Tank returns to campus this spring, Powers encourages students to present their ideas.
"If you think you have a good idea and are passionate about it, just do it," she said. "You never know where it's going to lead you." (Story by Heather Harris Michonski)
Do you have a BSU story you'd like to share? Email stories@bridgew.edu