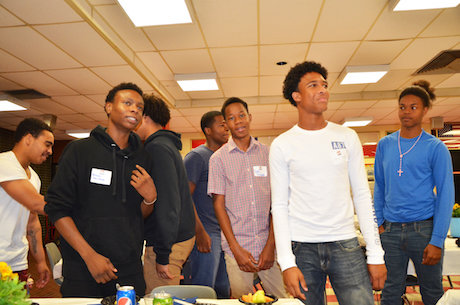 Story Series
News Feature
If the dozens of students gathered on Saturday in the Brockton High School cafeteria weren't pumped to attend college after Pamerson Ifill spoke, they may never be.
Mr. Ifill was the keynote speaker at an event that marked the launch of a BSU initiative called 100 Males to College: Brotherhood for College Success. The program recruits males of color from the greater Brockton area and guides them through their high school graduation, then helps them enter Massasoit Community College for two years before finishing their degree at BSU.
Much of Saturday's program was geared toward emphasizing to the Brockton students that they were college material – all they need do is apply themselves. Driving home that message through both words and example was Mr. Ifill.
"The only way you are going to succeed is because you want to do it," he told the students. "If you want to be successful you need to take the steps. How much do you want this? If you want it bad enough you're going to take it."
Mr. Ifill retains the physique of the boxer he once was. He told the students of how he'd left his home in Barbados at the age of 13, and eventually his abilities in the ring led him, albeit via a circuitous route, to Brockton, and finally Massasoit Community College. 
Today, Mr. Ifill is a Massasoit trustee and a regional supervisor of probation services for the Massachusetts Trial Court. He told the students that their young lives have nothing on his early years.
"My teenage life was miserable," he said. Boxing saved him, he said, quickly adding: "I'm no more talented than any of you… The thing is, you have to believe."
The words, along with the morning's other events, had an impact on Didi Diseko, a sophomore at Brockton High School.
"This is a great opportunity to learn from people who have had the same experiences we've had and to see how they've succeeded," he said.
Cross-divisional teams at Bridgewater State University and Massasoit Community College launched the program in conjunction with Brockton High School and Southeastern Regional Vocational Technical School. Administrators at the two high schools identified 100 promising 10th and 11th grade low-income and/or male students of color whose grades indicated that with a small amount of additional support they would likely complete high school and enroll in college.
Bridgewater State and Massasoit will train peer college mentors to work with these young men in guiding them and impressing on them the importance of college. The program will also provide college and career planning and financial aid literacy to help them navigate the college admissions process, and other skills classes to help them succeed in college. The 100 males will take dual enrollment classes and engage in other college experiences.
The program has already been implemented in Springfield, Framingham and Worcester, and is showing early success. Of the young men involved in the pilot program in Springfield, all graduated high school and 97 percent are going on to college. (The remaining three percent opted for the military.)
When BSU President Frederick W. Clark Jr. had his chance to address the students at Saturday's kickoff event, he told them that his own roots weren't that different from their own. President Clark grew up in Brockton, attended the Huntington School, and was the first member of his immediate family to attend college.
Mr. Clark also shared a telltale number with the young men: seven out of ten jobs in Massachusetts require a college degree.
"Almost anything you want to be is made better by a college education, to understand your world, to understand each other," he said.
The afternoon featured workshops for the students and parents. 
Soon these young men will meet with their mentors and advisers and begin plotting their route to a high school diploma and college.
BSU's Assistant Director of Male Mentoring and FAM for Change Richardson Pierre-Louis, who served as the program's emcee, told the students: "You will excel, that is the expectation." (Story and photos by John Winters, G'11, University News & Media)