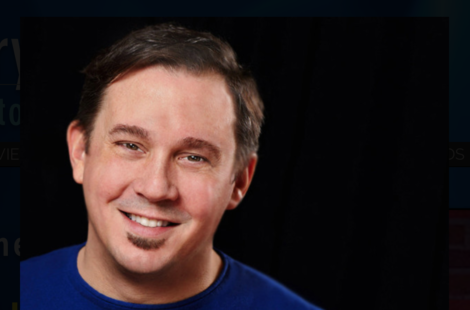 Story Series
News Feature
To see Once Upon a Mattress is to love it, says the show's director Larry Sousa. The musical, currently being produced by BSU's Family Performing Arts Center, will continue its run this coming weekend.
Mr. Sousa is a Brockton native whose credits as a director and choreographer range from regional theater to Broadway. He is the recipient of the prestigious Los Angeles Drama Critics Circle Award, the L.A. Ovation Award, two Backstage Garland Awards, the OnStage Critics Award, and multiple Independent Reviewers of New England Awards, to name just a few. He is an NAACP Theatre Award and Los Angeles Weekly Theatre Award nominee, and a two-time winner of the American Dance Awards Choreographer of the Year prize.
Recently we asked him about his time helming Once Upon a Mattress for FPAC.
Q: What attracted you and the folks at FPAC to this musical?
A: I love musicals that are silly and fun while also being smart. Once Upon a Mattress is definitely one of those shows. It is hilarious and heartwarming, with important themes and messages for our audiences to experience and enjoy. This musical might not be as well-known as some of the other family musicals we've all heard of, but that's exactly the point of choosing it. This is a classic American musical that audiences don't often get a chance to see. I know people who walked into our show last week having never heard of Once Upon a Mattress... and left having become new fans of the show!
Q: Even if people don't recognize the title, they probably know the story, correct?
A: Yes. Once Upon a Mattress is the Broadway musical adaptation of the classic fairytale, "The Princess and The Pea." The musical version takes many surprising and wacky liberties with the original story.
Q: What about the production will most appeal to families?
A: Two things: 1) The awesome entertainment value, and 2) The message. As for entertainment value, we have created an exciting big Broadway-scale production with great singing and energetic dancing throughout. Our talented cast features some of the funniest actors around, and our professional orchestra is truly dazzling. As for the message, families will appreciate the many important life lessons this show offers, including "Don't Judge A Book By Its Cover," and "Find Your Voice."
Q: The set looks fantastic. Can you tell us a bit about how it all came together?
A: I love the set! I also love all the other wonderful design elements featured in our production: lighting, costumes, projections, sound and props. Theater is the ultimate collaboration, and it's important to note that no single production element stands on its own without the others. For example, the deep blue and purple colors of our set were chosen specifically to feature the rainbow of bright, gorgeous costumes we have. And our audiences will see stunning images projected all over the set throughout the show. The beautiful lighting we have is designed to balance and support the projections, and to take the audience through each moment of the story with ease. It's magic!
Q: You've worked on productions both nationally and on Broadway, what is it about regional theater that keeps drawing you back?
A: No matter where a production may be happening – Broadway, Berlin, or Bridgewater – the stakes truly are the same. My personal goal is to deliver a Broadway-level show to every audience no matter where I am. I think that's important because audiences give us their most valuable assets: their time, attention, and money. They all deserve the highest quality experience we can deliver. 
Those of us who have worked on Broadway also work regularly in regional and educational theater. Indeed, many musicals that arrive on Broadway started their lives in a regional theater somewhere. The last show I directed before this one was a brand-new musical written by a 7-time Emmy award winner from Los Angeles. You'd think we'd be opening that show in Hollywood, but in fact we did it in Wyoming, in a town half the size of Bridgewater. Good theater can happen anywhere!
For tickets and information about Once Upon a Mattress visit BSUTix.com. (Interview conducted by John Winters, G'11, University News)