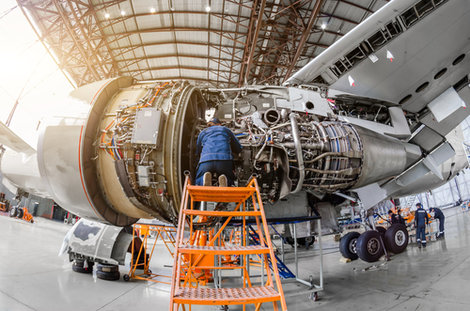 Story Series
News Feature
The signing of a housing agreement between two public higher education institutions in the region will result in greater access to career preparation in the high-demand field of aviation maintenance technology.
The effects are expected to be felt across the state, New England and beyond. 
The Aviation Maintenance Technology program offered by Cape Cod Community College at Plymouth Municipal Airport will expand its accessibility beyond Southeastern Massachusetts and the Cape, thanks to an agreement with Bridgewater State University, which has guaranteed housing in its residence halls to students in the program.
The agreement, signed by Dr. John L. Cox, president of CCCC, and Frederick W. Clark Jr., president of BSU, goes into effect for the 2018-19 academic year. BSU's 11 residence halls  can house more than 3,000 students.
The Aviation Maintenance Technology program, which opened in fall 2016, offers both a certificate over 14 months and a two-year associate degree to those who are also interested in aviation maintenance management. The first group of students in the associate degree program received their diplomas this spring.
With demand for employees trained in FAA-certified aviation maintenance technology at critical levels, and jobs that start at $50,000 a year awaiting graduates, the addition of housing will open CCCC's program to residents in other areas of the state and country. Approximately 40 students are enrolled in the program, which has capacity to offer training to 72 students during the day in addition to another 24 in the evening. 
While the Aviation Maintenance Technology program has been "a destination program for the region," President Cox called the partnership with BSU "a high-water mark in the relationship" between the two public higher education institutions.
President Clark said the partnership "makes sense, given the synergy between Cape Cod's maintenance program and BSU's bachelor's degree in aviation science. Most of all, it provides Cape Cod Community College with the opportunity to recruit across New England and the country." BSU is 20 miles from the Plymouth Municipal Airport.
Dr. Karim Ismaili, provost and vice president for academic affairs at BSU, discussed the new partnership with Cape Cod, as well as those established a year ago with Bristol and Massasoit Colleges in the fledgling CC2BSU program, which guarantees acceptance into BSU for students who earn their associate degree at the two-year college.
"We continue to recognize that our strengths – as community colleges and as a university – can be aligned in creative ways," he said. "This is another example of what we need to be doing in order to make students be successful in their lives.
"We need to provide access to quality programs and create pathways for our students who come to BSU through one of our region's community colleges," he said, noting that half of BSU's 1,100-plus-student transfer population comes from the three community colleges in the region.
Since the program's opening in Plymouth, Cape Cod Community College has expanded its presence at the airport from the lease of one hangar to several, expanding classroom and mechanical training space along the way and adding a number of other aspects of hands-on aviation maintenance to the program.
President Cox and Stan Mackiewicz, director of the program, are planning to add avionics to the offerings in Plymouth in the not-to-distant future. Cape Cod Community College built the program from scratch, following FAA regulations that are required to offer training in the field. More information is available at capecod.edu/aviation. (Story by Eva T. Gaffney, G'01, for University News)