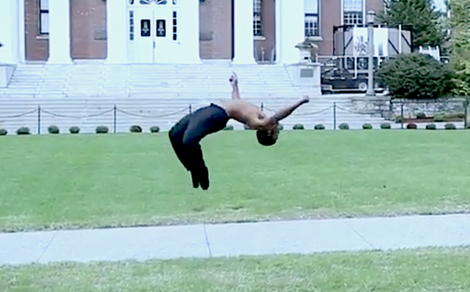 Story Series
News Feature
There have been reported sightings of a bear flying, spinning and flipping through the air on the Bridgewater State University Quadrangle.
Upon further investigation it was revealed that the jumping and gyrating figure is actually Ailton Tavares, '20, a business marketing major who earns a living as a "trickster."
No, Ailton isn't collecting a paycheck by playing pranks, he's part of a training discipline called "tricking," where athlete-artists link together a combination of acrobatic moves that include kicks, flips and twists.
For bystanders it's an impressive routine to witness.
"People are always surprised, for many they've never seen the things I do and are very shocked," Ailton said.
When not in class he uses spaces around campus, such as the Boyden Quadrangle and University Park, to choreograph and practice his complicated sequence.
"I practice every day until I'm tired," Ailton said. "Tricking is like walking to me."
High above the ground, the euphoria he experiences is like no other sensation.
"I feel like I'm flying," he said. "It's a cool feeling to be in the air floating."
Since starting five years ago, he has performed his act in Boston's Fanueil Hall, California's Venice Beach and in Montreal. He recently took part in a high-profile photo shoot for an upcoming print advertisement for Nike.
It was Ailton's late brother Emerson who turned him on to tricking and who still serves as motivation.
"I feel like he's with me, yeah," he said.
Ailton wants members of the BSU community to understand that during his on-campus workouts, he's not showing off, but simply working on perfecting his craft.
"I'm only training and trying to get better," he said.
This bouncing Bear invites everyone to follow his blossoming career on Instagram. (University News & Video; video by Carl Hollant, '15)