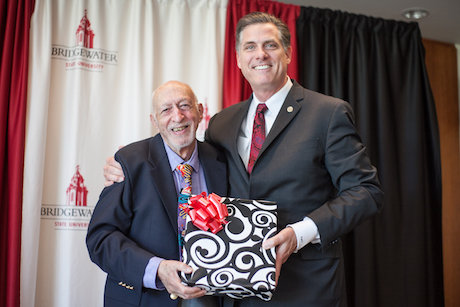 Story Series
News Feature
More than anything, it was the drive to help people that led Dr. Joel Litvin to pursue a career in higher education. In his 40 years at Bridgewater, he did just that. 
On Saturday, May 19, BSU honored Dr. Litvin with a retirement party, thanking him for his decades of service. His wife Debbie and the couple's two children, Sarah and Sam, were on hand for the celebration, along with an RCC ballroom packed with friends, former students and colleagues.
In an interview before the event, Dr. Litvin talked about his time at Bridgewater, as well as the things that moved him to become a top educator.
"Bridgewater State is truly an example of the best there is in higher public education and leadership," Dr. Litvin said. "People should keep an eye on Bridgewater because it will continue to lead the state, if not the region, in higher public education."
Working in public education, Dr. Litvin said, allowed him fulfill his career goals. 
"Public education creates opportunities for people who may not be born into wealth or power, to test their own abilities and to develop their potential," he said. "I've always seen the value of public education and wanted to be involved in it to help other people succeed."
Dr. Litvin started his teaching career at what was then Bridgewater State College in the fall of 1977. Over the years, he taught a wide variety of general communication courses, including the introduction to public relations classes in the 1980s. He shared some of the changes witnessed during his tenure.
"The obvious thing is the growth of the physical campus, growth in student enrollment, and growth in faculty and administration," Dr. Litvin said. "Also, the evolution with the communication studies department, the curriculum development, and creating content that was relevant."
Watching the institution evolve into a university was perhaps the most dramatic change, Dr. Litvin said.  
As he leaves the BSU community, he said it is the students and his colleagues he will miss the most.
"Working with the students has been such a joy in terms of their intelligence, motivation and energy. I think students at Bridgewater State are sincere, honest and more intelligent than they give themselves credit for," Dr. Litvin said.  
His time helping BSU students prepare for their futures might be behind him, but Dr. Litvin is far from through with his quest to help others. He plans to work as a mentor with Boston Cares Service Works, a youth engagement program that helps young people become involved in community service. 
"I want to stay on the path I've been on, to try and continue to find ways and use the abilities I have to support other people and help them succeed," he said. (Story by Heather Harris Michonski, University News)