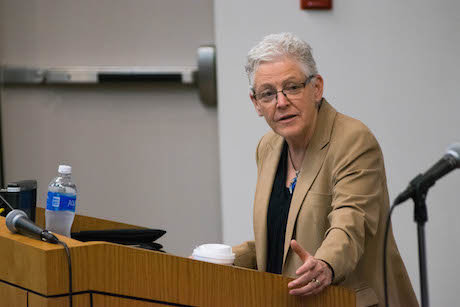 Story Series
News Feature
It was good while it lasted, but Gina McCarthy, former director of the Environmental Protection Agency, fears that many of the strides made over the past few decades in protecting the environment are now at risk.
"We've had a great run for a while," she told an attentive audience in the Moakley Auditorium.
The former member of the Obama Administration was this year's presenter of the College of Science and Mathematics Class of '42 Lecture.
Under her watch, the U.S. signed the Clean Power Plan, cut air pollution, safeguarded water supplies and addressed the growing threat of climate change.
However, she said, there's a new president and change is in the wind.
"Soon after the presidential election it was made pretty clear to us that they're really taking a much different view of the EPA than anyone has taken since the Reagan Administration. Actually much more extreme than the Reagan Administration," she said.
Ms. McCarthy said the environmental challenges facing the world today are more complicated and difficult than ever, requiring new and innovative approaches. The impact of these challenges if not addressed will affect everything from economics to healthcare to national security and short- and long-term climate issues.
She traced the environmental movement from the 1970s – with its belching smokestacks and high engine emissions – up through today, with tougher regulations on many fronts. Regulations that have paid dividends, Ms. McCarthy said.
"Now is not the time to roll back all of the protections that have given us the equality of life we now enjoy," she said. "We still have tremendous work to do." (Story by John Winters, G '11, University News & Media; photos by Widmaer Fleuransaint, '18)