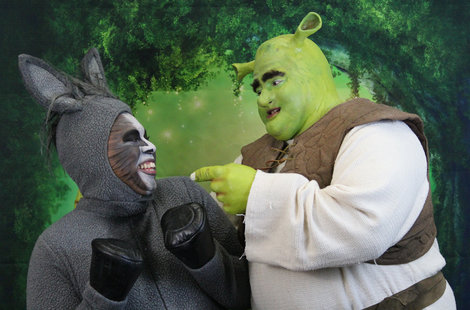 Story Series
News Feature
The award-winning Family Performing Arts Center (FPAC) at Bridgewater State University will conclude its second season with a summer performance of Shrek the Musical during the month of July.
Based on the Oscar-winning DreamWorks Animation film, Shrek the Musical is a Tony Award-winning fairy tale adventure featuring all new songs by Jeanine Tesori (Thoroughly Modern Millie; Caroline or Change) and a sidesplitting book and lyrics by David Lindsay-Abaire.
Shrek brings all of beloved characters from film to life on stage and proves there's more to the story than meets the ears. The leading cast, all of whom have featured singing roles and extensive stage time, include: Justin Grankewicz of Dorchester as Shrek; Emily Buckley of Fall River as Fiona; Dana Reid of Peabody as Donkey; Jordan Reynolds of Boston as Pinocchio; and Asha Hirsi of Boston as Dragon.
"Once upon a time, there was a little ogre named Shrek …" and thus begins the tale of an unlikely hero who finds himself on a life-changing journey alongside a wisecracking donkey and a feisty princess who resists her rescue. Toss in a short-tempered bad guy, a cookie with an attitude and more than a dozen other fairy tale misfits and the stage is set for a real hero – Shrek.
Artistic director of the FPAC presentation is Dr. Colleen Rua of Medford, assistant professor of theater at BSU, while Dori Ployer of Holbrook is the choreographer. Theater Professor Lisa Troy of Bridgewater is producing director, and Brett Tiberi of Medford is technical director.
The musical presents a treasure trove of creative gems including costumes, sets, puppets (featuring a fire-breathing dragon) and more. Irreverently fun for the whole family, Shrek proves that beauty is truly in the eye of the ogre.
FPAC performances will be staged in the Rondileau Campus Center Auditorium on the following dates: Fridays, July 14 and 21 at 7 p.m.; Saturdays, July 15 and 22 at 2 and 7 p.m.; and Sundays, July 16 and 23 at 2 p.m. Tickets, which range in price from $25.50 to $10.50, are available at www.BSUtix.com. Free parking on campus is available in the West and Harrington lots.
Approximately 18,000 have attended FPAC's first three productions, including this year's Mary Poppins and, during its inaugural season, Moss Hart Award Winner Beauty and the Beast as well as Seussical, which was nominated for a BroadwayWorld.com regional award for best musical. (Story by Eva T. Gaffney, G '01, for University News & Media)