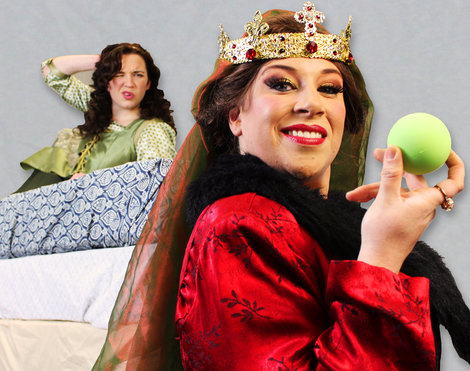 Story Series
News Feature
The would-be princess and the bothersome pea that leads her to her fate form the core of the 1959 musical-comedy Once Upon a Mattress, which comes to Bridgewater State University's Family Performing Arts Center beginning Jan. 5.
Featuring a number of wonderful songs and a plot that is by turns raucous and romantic, Once Upon a Mattress and the fairy tale it's based on, have entertained people of all ages for generations.
FPAC co-founder Lisa Troy has starred in and directed the musical in the past, and was glad to see it making its way to the Rondileau Campus Center stage.
"It's such a wonderful and funny show," she said.
See the list of cast members below.
Hans Christian Andersen published "The Princess and the Pea" in 1835; it tells the story of a prince in search of a suitable wife. When fate delivers to his door a young woman who claims to be a princess, he tests her by having her sleep on a pile of mattresses to see if she is sensitive enough to feel a pea resting on the bottom one. In 1959 the fairy tale was turned into a musical called Once Upon a Mattress. Carol Burnett starred as the princess when the production arrived on Broadway.
The FPAC production is helmed by nationally-recognized director and choreographer Larry Sousa. With music by Mary Rodgers, lyrics by Marshall Barer, and book by Jay Thompson, Dean Fuller and Marshall Barer, this classic musical comedy offers a night of great music and guaranteed hilarity. 
Once Upon a Mattress will be staged in the RCC Auditorium at 19 Park Ave. on the campus of Bridgewater State University.
 Performances:
Friday, January 12 at 7 p.m.
Saturday, January 13 at 2 and 7 p.m.
Sunday, January 14 at 2 p.m.
More information is available online at familyperformingartscenter.com. To purchase tickets, log on to BSUtix.com. 
This event is made possible through funding from Bridgewater State University's Arts for Youth program. For more information, email the box office at BoxOffice@bridgew.edu or call 508-531-1321.