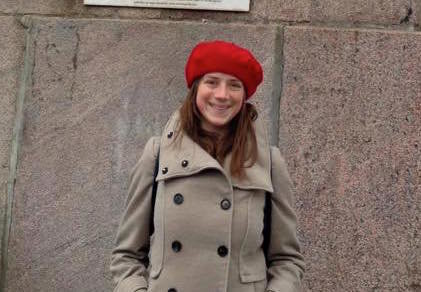 Story Series
News Feature
Frances W. Harrison, '11, hopes to become an anthropologist studying the interrelationship of local cultures within a broader international context. Thanks to a Fulbright scholarship, she's now taking a big step toward that goal. 
A PhD candidate in sociocultural anthropology at New York's Binghamton University, Ms. Harrison last year was awarded a Fulbright student research grant to further her doctoral work in Lithuania. Since last September, the Sandwich native has been serving as an adjunct research fellow at Vytautas Magnus University, in Kaunas.
"I feel really fortunate to have the opportunity to financially support turning my ideas into reality," Ms. Harrison said by e-mail.
Ms. Harrison's research focuses on Lithuanian fears about a potential Russian invasion and how those anxieties are defined by cultural memories from the Cold War, along with such topics as the connection between skepticism towards foreigners, high emigration rates, and military recruitment.
In addition to historical research, her work in Lithuania involves interviewing local residents, Lithuanian and NATO soldiers, international organizations, and even volunteering at a refugee and migrant center.
"I have learned a lot from having to design such a large project from scratch," said Ms. Harrison, who added that she is also grateful for the new friends and colleagues she has met.
At BSU, Ms. Harrison was originally a geography major, but added anthropology as a second major because of her interest in social issues. She credits BSU, in particular geography Professors James Hayes-Bohanan and Vernon Domingo, and anthropology Professor Diana Fox, for helping shape that career decision.
Aspiring to teach at a university or to work in research and policy making, Ms. Harrison said she will be guided by her belief that "Anthropology should be there not just as a tool to observe, but as a tool for changing structural problems."