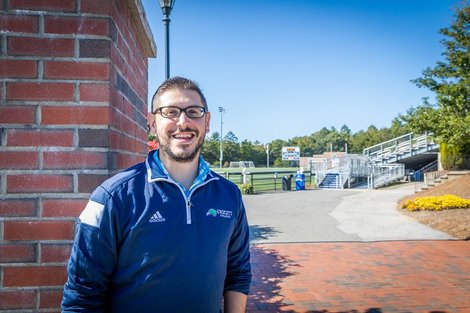 If you're someone with a concrete idea or a well-thought-out plan, everyone at BSU is willing to help you see your dreams come true.
Story Series
News Feature
Back in 2004, unless you traveled to Bridgewater State University in person, you were unable to watch your favorite Bears take to the court or field.
That all changed when Shawn Medeiros, '08, arrived on campus as a freshman.
The Fall River native came to BSU with dreams of becoming a sports broadcaster. When he realized the school didn't broadcast any of its sporting events live, he took action.
Together with another student, he teamed up with Bridgewater Community Television (channel 9 locally), to bring athletics to the small screen for members of the BSU community, and beyond, to enjoy.
Through his efforts he gained valuable knowledge, from using the camera, to editing, and broadcasting live on air.
"It was a great experimental learning experience for us," Medeiros said.
Without realizing it, his endeavors at BSU allowed him to craft an impressive resume which eventually led to internships, jobs, and a steady career working in the sports information world.
Today, the alumnus serves as sports information director for Endicott College, a position he's held since 2015.
He is the first to tell you that Bridgewater State University has played a role in his successful career.
As an undergraduate, Medeiros also joined the editorial team working for the school newspaper, The Comment. The experience he gained led to a stint at The Boston Globe his junior year.
His first official assignment as a Globe writer was to cover a high school playoff hockey game.
"I thought I did well, but low and behold I mentioned the wrong kid 11 times…the sports editor had to write a retraction," Medeiros said.
The error almost cost him the job, but because his boss liked the fact he went to BSU, and in fact was the paper's only new hire who went to a state school versus a private better known for its journalism program, decided to keep him on.
"That second chance was really nice, he believed in me because I was a kid from a different background," he said.
Medeiros learned from the experience and eventually was given the cross-country/track and field beat.
After graduating from BSU with a bachelor's in communication studies, Medeiros found steady work. His early jobs included director of media relations and broadcasting for a collegiate summer baseball team, to multiple sports information positions at various colleges throughout New England.
For current BSU students aspiring to follow in his footsteps, his advice is to get involved and take advantage of all the opportunities Bridgewater has to offer.
"I gained a lot of experience at Bridgewater in terms of broadcasting, but BSU is also a welcoming community. All of the classes I had really piqued my intellectual curiosity," Medeiros said, adding, "If you're someone with a concrete idea or a well-thought-out plan, everyone at BSU is willing to help you see your dreams come true."
Do you have a BSU story you'd like to share? Email stories@bridgew.edu