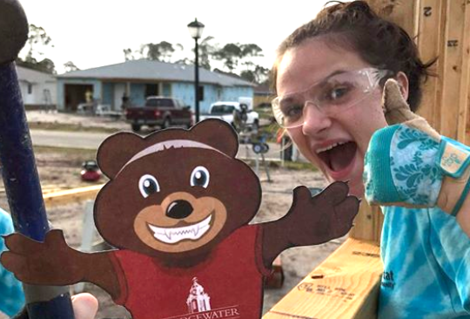 Story Series
News Feature
Two dozen students spent winter break lending a helping hand in Washington, D.C., and two locations in Florida.
The volunteers took part in the alternative break trip, a longstanding program at the university. Each of the three teams of Bears was accompanied by two faculty or staff members.
Kaitlyn Peterson was the student co-leader with a group that spent the week in Vero Beach, Fla., volunteering for the Indian River Habitat for Humanity. She said: "I absolutely love everything that these trips encompass."
"Participating in an alternative break trip was truly a life-changing experience for me," Kaitlyn said. "It has allowed me to break out of my comfort zone, meet new people, and make a positive impact on someone's life. I've gained a deeper understanding on issues surrounding affordable housing and how to use my voice to fight for what is just."
The two other volunteer groups were dispatched to Youth Services Opportunities Project in D.C., and the Hope Community Center in Apopka, Fla.
The alternative break trip program offers students the opportunity to engage in meaningful, direct service through a weeklong immersion experience. Social justice education and civic and personal reflection are pillars of the program.
The next Alternative Break hits the road in March. (Story by John Winters, G '11, University News; photos submitted)