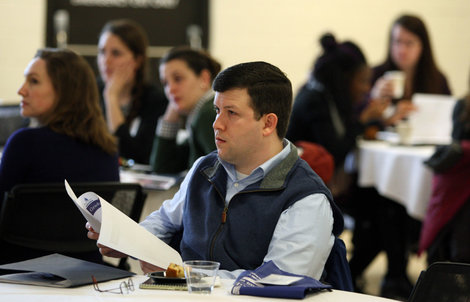 Story Series
News Feature
The first-ever Graduate Student Career Forum on Feb. 10 showed current students just how to put the "work" in network.
Bridgewater State University graduate students gathered in Burnell Hall Saturday morning for a power-packed day of career guidance, workshops and networking — all drawing upon the expertise of more than a dozen alumni. 
Thanks to hosts Career Services and the College of Graduate Studies, students had the opportunity to prepare for their professional future by attending workshops focused on résumés, cover letters, job searching and interviewing. Additionally, networking roundtables with 11 alumni from a variety of industries and fields offered a new perspective, and a three-person employer panel (which included Katie McCue, '03; Paul Zinni, '86; and Jessica Pike, G '12) addressed how graduate students can leverage their degrees, skills and experiences.
"Career Services is an available resource to all graduate students and we hope these students will utilize our office after attending the forum," said Career Development Coordinator Katie Vågen. "My hope is that the event motivated our students to be more active in the career planning and job search process now that they have the tools to get started."
(Story by Charlie Peters, University News)