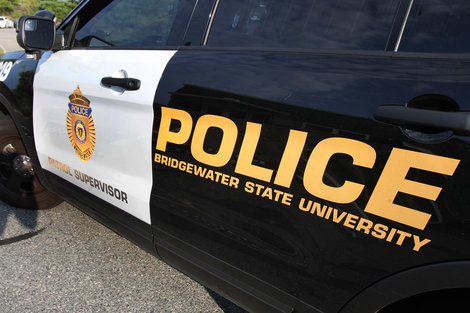 Story Series
News Feature
The Bridgewater State University Police Department will soon have additional support in assisting people facing mental health challenges.
The department is one of six in Plymouth County that received a $135,000 state Department of Mental Health grant. The grant funds the salary of a clinician from High Point Treatment Center for three years. The clinician, who is in the process of being hired, will work with police and respond to calls where someone on campus is coping with a mental health problem.
While Bridgewater State already provides counseling services, police often have to handle situations after hours, said Deputy Chief of Police Glen Anderson.
"It gives us another tool to have a professional come out and assist us in that regard," he said. 
In addition to BSU, the Bridgewater, East Bridgewater, West Bridgewater, Whitman and Middleboro police departments will benefit from the grant.
It comes as police locally and elsewhere increasingly respond to mental health calls, police offiials said.
Now, "we go to these calls and we're almost a Band-Aid," said Bridgewater Police Sgt. Scott Hile, '02, G '06, who put together the grant application.
Officers might arrest someone or send them to the hospital, but that may not solve the underlying issue, Sgt. Hile said.
"Really, the crimes are a side effect of their disorder," he said. "They go serve their time, get out, and still haven't addressed what the problem is."
The grant-funded hire seeks to provide people with the mental health treatment they need rather than a date in court. It should reduce the burden on the criminal justice and hospital systems. Also, police will undergo training on addressing mental health issues. 
Officials plan to collaborate with BSU counselors and other treatment providers.
"In our experiences, a lot of people we come in contact with may be in crisis and have already used resources," Deputy Chief Anderson said. "What we don't want to do is keep them segmented." (Story by Brian Benson, University News)