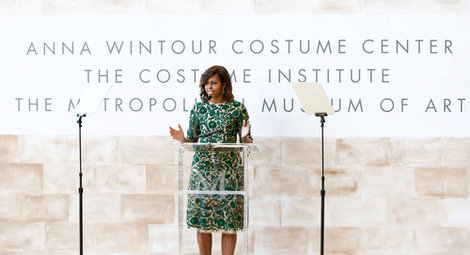 Story Series
News Feature
How voters view the spouses of Presidential candidates and their evolving role on the American political stage is the focus of a new book by Bridgewater State University political science Professor Brian Frederick.
In American Presidential Candidate Spouses: The Public's Perspective , Dr. Frederick and co-authors Laurel Elder and Barbara Burrell draw from three decades of polling data to explore evolving voter expectations about the spouses of major party presidential contenders.
"The spouses of presidential candidates are very unique political actors when you consider that there is no formal Constitutional office they are running for," observed Dr. Frederick, an associate professor and chair of the Department of Political Science.
But he said those spouses have "become increasingly an object of media and public attention, so there is now an expectation that they play a role in the campaign."
Despite their growing importance in presidential contests, Dr. Frederick said there had not previously been a comprehensive analysis of public opinion data about candidates' spouses, prompting him and his colleagues to take on the task.
From their research, which focuses on elections from 1988-2016, the authors conclude that today's public expects the spouses to serve as active surrogates for the candidate. Voters want to hear them vouching for his or her ability to do the job, but not be heavily involved in policy. This mixed perspective Dr. Frederick and his coauthors term "the new traditionalism."
"They see the individual as supporting the presidential candidate but within a set of limitations," he said of voters. And since all but one of the spouses have been women – the exception was Bill Clinton in 2016 – he said those limitations reflect "traditional gendered expectations," that spouses confine themselves to issues "appropriate for First Ladies to address."
Dr. Frederick, who authored a previous book in 2009, Congressional Representation & Constituents: The Case for Increasing the U.S. House of Representatives, said he hopes the new book will lead more people to see presidential candidate spouses as deserving of attention by scholars, the media, and political observers.
"We also want to get out the message that the public has meaningful attitudes towards presidential candidate spouses," he said, "and that they are set factors determining why certain spouses are more popular than others." (Story by John Laidler for University News)