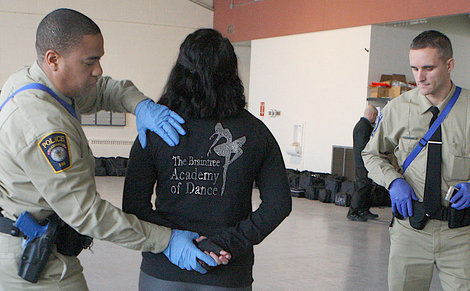 Story Series
News Feature
The three Bridgewater State University students had clearly done nothing wrong. 
Why were they being searched?
Theater majors Lucia Morelli, Sophia DaSilva and Katie Walsh spent a day last week doing their part to help train roughly 50 future municipal police officers at the Randolph Police Academy. The training involved teaching the proper method of searching an individual for contraband.
Earlier, each of the BSU students was handed a baggie full of marijuana (oregano), cocaine (soap powder), pills, and defunct cellphones, the latter of which can be used to hide certain types of weapons. When the training got under way, the trio of "suspects" was then spread around the one-time elementary school cafeteria.
Next, in groups of six the trainees entered and paired off to try and find the mock contraband on each of the students. One recruit searched while the other looked on. Headbands, jacket liners, UGG boots ("You can hide all kinds of stuff in there," one of the instructors said), long hair, jackets with myriad pockets… Watching the trainees gave one a real sense of how difficult it is to conduct a thorough and legal search. And dangerous: "If they miss a gun, it could mean the difference between whether they're going home or not at the end of their shift," said Jon Blum from Force Concepts, the company that developed the curriculum for the academy.
Sometimes these future officers hit pay dirt with their searching, sometimes not. That's all part of the exercise.
"That's fine" if they don't find anything. "It's a real learning experience for them," Mr. Blum said. "This is very valuable for the officers."
The 21-week Basic Recruit Officer Training is held regularly at the academy, which is housed on a side road in Randolph, less than two miles from Route 24, at the former Tower Hill Elementary School. Director Lara Thomas had an idea that having some acting students play various roles in the training of the recruits would be a good idea, so she decided to ask around.
"It's someone they don't know and it adds a sense of reality to it," she said.
Ms. Thomas' daughter, Julia, is a first-year mathematics major at BSU; in December, she contacted the university via email and reached theater Professor James Quinn. He asked the members of his Acting I class if they'd like to participate and a handful responded. On February 1, a small group of students traveled to the academy, where they acted as witnesses who needed to be interrogated.
The three BSU students being searched on this day had also participated the week before (along with fellow theater majors Angela Harrington, Rob Wilson and Will Sexton). Each had her reasons for coming back, chiefly to hone their skills at improvisation and characterization.
"I'm a theater major, and when I see a chance to act of course I'm going to take it," said Sophia, a Worcester native, who had started out as a criminal justice major.
Lucia, a first-year student from Holbrook, saw the exercise as very similar to acting onstage.
"It's like being given a character and playing it," she said. She added that watching cop shows on television gave her the necessary insight into playing a suspect being searched.
The trio admitted to some nervousness at first. However, they soon settled into the gig.
"By the third time, you have a story developing," said Katie, a first-year student from Randolph.
Those doing the training said having the acting students participate was better than simply asking one of the recruits to play a suspect, as they usually were forced to do. The trainees know their classmates and also know too much about police procedure to act naturally, that is, like a potential criminal.
"Having the acting students is great," said instructor Sgt. Det. Joseph Gallerelli of the Boston Police Department. "I think it helps everybody."
The instructors encouraged the trio of BSU theater students to do a bit more acting while being searched.
"Put yourself in the mind of a criminal who is trying to hide something," Ms. Thomas said. "Try to distract them, they need to stay focused."
Professor Quinn was on hand for the training, and said the new collaboration between BSU and the Randolph Police Academy "works beautifully." In fact, he'd like to put together a large pool of theater majors to take part on a rotating basis, possibly as interns or at least getting credit for community service.
"The students really enjoy it," he said. "They put them into a scene and ask them to play it simply and honestly. It really simulates for a student what acting is all about." 
Students wishing to volunteer at the Randolph Police Academy or with questions can contact Professor Quinn at jquinn@bridgew.edu. (Story by John Winters, G '11, University News)