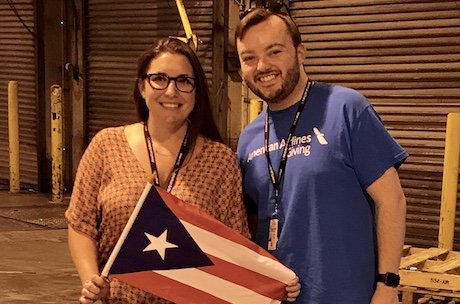 Story Series
News Feature
Hurricane Maria which devastated Puerto Rico, also hit Rich Henderson hard. The 2012 graduate has many friends and acquaintances on the island.
"It's also one of my favorite places to visit, and to vacation with my partner," he said. "I have really strong ties to Puerto Rico."
After taking his degree in psychology at BSU, Mr. Henderson moved to Washington, D.C., and joined AmeriCorps with his sights set on a career in the nonprofit sector. However, his plans soon required some readjustment.
"I stumbled into being a flight attendant," he said by phone from his current home in Philadelphia. "It's a great job and a unique work experience."
Flying to different locales for American Airlines all the time keeps Mr. Henderson busy, and the variation – one day could be a short jaunt to Boston, the next a long haul to Athens – is part of what he loves about the job. When last week the airline offered to fly donations to Puerto Rico free of charge (a program known as Operation Puerto Rico Strong), Mr. Henderson jumped. Actually, he had to jump – he didn't learn about the Monday-through-Friday offering until last Thursday.
The next 12 hours were busy ones. He took to social media looking for donations, and his wide circle of friends responded big time. He raised more than $2,250 and started buying supplies to donate. The money went far, allowing Mr. Henderson to purchase four generators and four 150-pound boxes of food, water, and supplies such as batteries, flashlights and other necessities. When he discovered that he had more donations to ship than the program was allowing per person, he quickly recruited some coworkers to send some.
"That's what I love about the airline community, if you say 'I need help,' everyone is ready to pitch in," he said.
For Mr. Henderson, he was glad to do his part for the people of Puerto Rico, but said there's still much to be done for those still struggling in the aftermath of Maria. Meanwhile, this Saturday, he's scheduled to marry his partner, Andrew Kothlow, capping off a very busy couple of weeks. (Story by John Winters, G '11, University News & Media)