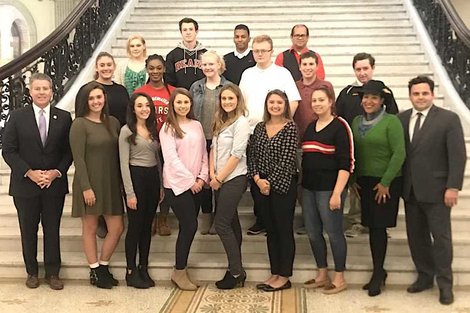 Story Series
News Feature
This was not your average assignment for students in Sasha Link's Writing Rhetorically course at Bridgewater State University.
"A lot of times in English classes you get a prompt to imagine you are writing to this person," said Niccolo Lembo-Volpe, a Wareham High School junior taking the class through a dual-enrollment program.
"You're never actually writing to them," added BSU student Maddie Elliott, '22.
But Link, '04, made the hypothetical real when she asked students to write to their lawmakers on topics about which they are passionate – and subsequently hand deliver their letters during a trip to the statehouse.
"The most important thing is to then turn these ideas and passions into an open conversation and dialogue," said Link, an adjunct professor in the Department of English and former legislative aide.
Link challenged students to write about topics related to their hometowns or the Bridgewater State community. 
Maddie, who lives in Foxboro, asked state Sen. Paul Feeney, D-Foxboro, if police have adequate training to respond to major incidents at Gillette Stadium. Niccolo wrote to state Rep. Susan Williams Gifford, R-Wareham, about creating more educational opportunities for non-native English speakers. Emily Mullaney, '22, who is from Canton, advocated for increased funding and awareness for the Canton High School theater program.
"I learned the importance of putting your words out there," said Emily, who wrote to state Rep. William Galvin, D-Canton, and talked with state Sen. Walter Timilty, D-Milton. 
Many students were unable to meet their lawmakers. But, they presented letters to secretaries or aides and went on an eye-opening tour of the statehouse.
"It was a lot of fun. It was really cool because I had never been there before," said Abby Grella, '22, of Mansfield, who wrote to state Rep. F. Jay Barrows, R-Mansfield, arguing foreign language instruction should start in lower grades. "You always hear what goes on in there and never go there to experience it."
Students took in the statehouse's grand architecture and found out it truly is a public building. 
"I always thought you have to be an exclusive person to get into the statehouse," said Shayla Young, '22, of Abington, who advocated for the Jeff Coombs Memorial Road Race in a letter to state Sen. John Keenan, D-Quincy. "I learned that it is the people's house. You don't have to be someone exclusive or important."