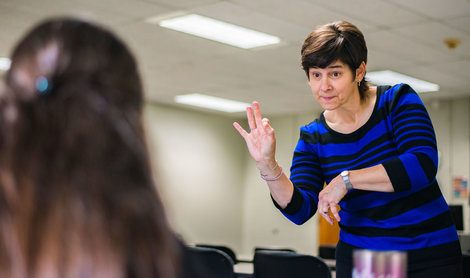 Story Series
News Feature
Imagine learning a foreign language from someone who only speaks that language. How about sign language from
someone who is deaf?
To some, it would seem like an impossible challenge. But, students in Bridgewater State University deaf Professor Glenna Caliendo's American Sign Language classes see an incredible – and inspirational – educational opportunity.
"I learn how to be who I really am and how to express myself regardless of my (learning) disability," said Kelsey Carreiro, '19, an elementary education and English major, who is also minoring in reading. 
At a recent class, Kelsey and her peers mimicked sign language Caliendo demonstrated as they followed along in a textbook. Students next split into pairs to sign with each other as Caliendo offered individualized guidance.
Caliendo writes assignments on the classroom's white board. She signs with students and has them write down or finger spell words if there is still a communications barrier.
"On the first day of the class, students were shocked that I'm a deaf professor, but they realized that I can lip-read and communicate with them," said Caliendo, who answered questions by typing her responses.
Sarah Giampa, '20, added: "The first couple weeks were a little challenging, but we all got used to it. We understand her and she's really good at communicating things to us twice if we need it."
Caliendo, a part-time instructor who has worked at BSU for almost two decades, grew up attending public school. She didn't learn sign language until college when she wanted to communicate with hearing-impaired students who used ASL.
"I am proud to have been raised to use my voice and lip-read and my parents worked very hard to make life the best for me," she said.
At BSU, she shares personal experiences, something students said adds a unique dimension to the class.
"At first I didn't know what it would be like," said Sarah, an elementary education major and special education minor from Walpole. "I really like it. I think it's better (with a deaf professor)."
Sonja Jensen, '19, a psychology major and childhood studies minor from Hanover, said Caliendo inspires her to help others because the instructor "is very caring and willing to do anything to help anybody succeed."
Students learn there is more to sign language than gestures.
"I have to teach them to use their facial expressions, eye contact, and body movement as part of the communication," Caliendo said. "I want them to communicate in ASL fluently and be comfortable in expressing their emotions."
Sarah and Kelsey plan to apply their ASL skills in their future classrooms, where they will teach students with and without disabilities. Sonja wants to teach her future children sign language.
"I do believe that ASL is an extremely important language because mostly anyone can learn it and it gives an option for another means of communication in the world," Caliendo said. "And that can only be a positive thing." (Photos also by Benson and Charlie Peters, University News & Video)