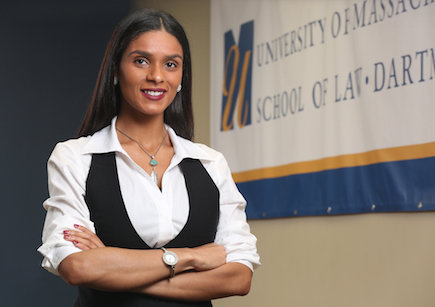 Story Series
News Feature
As she prepares to embark on a career as a lawyer, Shayla Mombeleur, '12, has been recognized for her plan to devote her professional energies to serving those in need.
Ms. Mombeleur, who graduates this month from the University of Massachusetts School of Law in Dartmouth, was chosen by the Massachusetts Bar Association to receive its 2017 Oliver Wendell Holmes Jr. Scholarship, to be presented at the group's annual dinner in Boston on Thursday, May 4.
The $10,000 award goes to a third-year law student in Massachusetts who is committed after graduation to serving under-represented populations.
Ms. Mombeleur, who grew up in a Dorchester family that struggled with poverty and substance abuse, said she is "absolutely thrilled" to earn an award that is borne from that personal experience as well as her work to date to help people in similar circumstances.
She said her selection is also an affirmation of her belief, expressed in her scholarship essay, that the criminal justice system needs to better accommodate people with mental illness and substance abuse problems.
While at BSU, where she majored in political science, Ms. Mombeleur made frequent trips to her father's native country of Haiti to bring baby formula and other essentials to an orphanage.
"It was a way for me to give back, to help my own community," she said.
Those trips and her own background inspired her desire to help disadvantaged people, but Ms. Mombeleur credits her professors at BSU with having helped shape that motivation into a specific career objective of becoming a lawyer who works as a public defender or a civil rights advocate.
During law school, Ms. Mombeleur has served as a judicial intern in two Massachusetts district courts and as a student attorney for the Bristol County District Attorney's office.
In addition to her scholarship, which she plans to use for future education and professional expenses, Ms. Mombeleur was invited to participate in the Bar Association's Leadership Academy, which seeks to develop and nurture future bar and civic leaders.
Her long-term goal is to become a judge in one of the state' specialty courts that deal with people facing substance abuse and other challenges, allowing her to  "make decisions for those people I will fight for as an attorney."