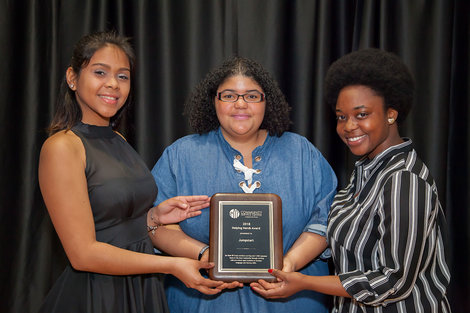 Story Series
News Feature
At the recent Impact Awards, dozens of people and organizations were recognized for accomplishments that affected the campus and the broader community.
"This is one of my favorite events of the year," said President Frederick W. Clark Jr., '83. "It's one of my favorites because it's all about you – our students – and what you do to make our campus, our region, our world, a better place."
The 22nd annual ceremony included awards for community service, leadership, club advising, programming and student excellence.
President Clark praised the selfless commitments of the award recipients. The event, he said, recognizes "involvement in service to others."
He recounted the same type of commitment to others manifested by his mentor, the late U.S. Congressman Joseph Moakley.
"I see in your generation some of that same public spiritedness and desire to improve the world around you," President Clark said. "I am inspired by who you are, what you stand for and what you do. And I am deeply grateful for the work you do, both individually and collectively, giving selflessly to help others."
This annual event is a collaboration between Student Involvement and Leadership, Student Government Association, the Community Service Center and the Division of Student Affairs and Enrollment Management.
A list of honorees is attached below. (Story by Brian Benson, University News)