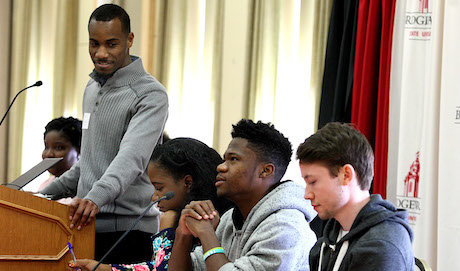 Story Series
News Feature
Students, educators and representatives from organizations that help the homeless came together Thursday to exchange experiences, gain inspiration, and learn about the causes of and potential solutions to homelessness.
It is possible to emerge from homelessness, and the key to doing so lies in a combination of housing and other assistance, as well as an income source, said Dr. David Wagner, professor emeritus of social work at the University of Southern Maine.
"We can't be so materialistic that it's only housing" and, likewise, cannot think providing social support services alone is enough, said Dr. Wagner, who delivered the keynote address at the Bridgewater State University's Center for Urban Poverty's 10th annual spring forum.
The event, titled "The Transformative Power of Education: Breaking the Cycle of Poverty," featured testimonials from students in the Bridgewater Scholars program, which aids people who have experienced homelessness by providing free access to a BSU education. Attendees also met in small groups to discuss successes and challenges related to helping the homeless and ways to ensure equal access to education.
"This conference originally started as a way of bringing community members together who are commonly focused on trying to end homelessness," said Dr. Michele Wakin, the center's director and a sociology professor. 
Higher education may seem unattainable but programs such as the Bridgewater Scholars show students succeed when they have the correct support, Dr. Wakin said.
"We think here at Bridgewater we can make a big difference with really just a small amount of the right assistance," President Frederick W. Clark Jr. told attendees."Public higher education is America's social mobility engine, period," he said.
Dr. Wagner drew from the stories of people he met while working on his new book, No Longer Homeless: How the Ex-Homeless Get and Stay Off the Streets, to describe how people enter and exit homelessness. Injuries, illness, elder abuse and deaths of family members are among the factors that can lead to homelessness. Housing subsidies, jobs and mental health and other support groups help people to put their lives back together, he said.
Dr. Wakin, in closing remarks, stressed the importance of collaborating as organizations assist people in need.
"This is the time to roll up our sleeves and get the work done," she said. (Story by Brian Benson, University News)