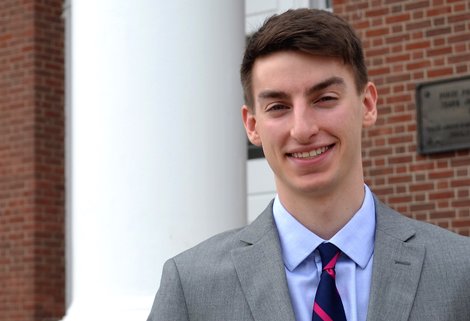 Story Series
News Feature
Zachary Curtis, '18, wasn't sure what he wanted to do with his life when he arrived on campus. His father Marc and older brother Matt (Class of 2014), both work in accounting, and eventually they inspired him to follow in their footsteps when it came time to choose a major. 
"I didn't really know what I wanted to do," Zachary admits, but after graduation next month, his experiences at Bridgewater will have given him the confidence to pursue a career in finance, he said. 
Zachary actually decided to double major in accounting and finance with a minor in management. He maintains a 3.939 GPA. His high marks have earned him a spot on the dean's list each semester.
The recipient of the 2018 Outstanding Senior Student Recognition Award Zachary,is also set to receive two scholarships – from Bridgewater Savings Bank and the Patricia (Quinn) Bartlett, '67, Endowed Scholarship Fund. 
He is just one of the students being celebrated Thursday during the Honors Week ceremony devoted to students in the Ricciardi College of Business. SEE BELOW FOR THE ENTIRE LIST OF HONOREES.
Through BSU, Zachary currently works as a financial intern in the College of Business, where Associate Dean Jeanean J. Davis-Streetsaid he, "delivered stellar results." 
As an intern, Zachary and two other students interviewed several investment firms to determine which one could best manage the BSU Foundation's fixed income portfolio. 
"Zachary was knowledgeable, diligent and professional during all aspects of the project, and the team gave a wonderful, well-received presentation to the BSU Foundation members," said Dr. Davis-Street. 
The Bridgewater native is also part of the inaugural student-managed Fund Club. This the first year the group has been in existence at BSU. Alumni funded $200,000 for members to analyze, invest and make stock pitches. Zachary said his experience with the Fund Club has given him a better understanding of key financial concepts related to the creation and management of a portfolio.  
Analyzing the stock market isn't the only way this Bear spends his time, he is also a professional cyclist and trains roughly 15 hours a week. 
Zachary has represented Bridgewater State in two collegiate national championships. The most recent race was held in Reno, Nevada, where he placed 11thin the overall college division and 30thin the US Men's Pro Division. 
Being a student athlete has helped him stay better organized and create a balance in life, he said.
"It's made me more disciplined and time-management oriented, teaching me to better prioritize," Zachary said. 
After spending four years at BSU, he is excited and ready for what the future might hold. 
"I feel confident that what I've learned at school has taught me how to work hard and be open minded to learning new skills," Zachary said. "I've been given a lot of good opportunities that have opened my eyes to what it will be like working in the real world." (Story and photo by Heather Harris Michonski, University News)