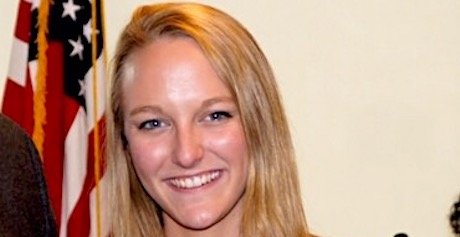 Story Series
News Feature
Keri Bryson, '18, said her interest in the sciences dates back to her childhood.
"I remember being obsessed with the forensic shows, that a young child shouldn't be watching, but I was always amazed by what they could solve through chemistry," she said. "As I got older, a lot of family members got sick with cancer and I became interested in diseases and the processes behind them that made them so difficult to treat."
Inspired to find solutions, Keri came to Bridgewater to study chemistry with a concentration in biochemistry. 
This week, the Lynn native is one of the deserving Bridgewater State University students being recognized during Honors Week.  Keri is this year's recipient of the American Institutes of Chemist Award in Biochemistry. SEE THE FULL LIST OF HONOREES ATTACHED BELOW.
Her undergraduate research started the summer prior to enrolling as a freshman at BSU when Keri participated in the three-week National Science Foundation-funded Student Retention Enhancement Across Mathematics and Science program held on campus (known on campus by the acronym STREAMS).
Since then, she has worked under two biochemistry professors to learn techniques in bio-organic chemistry as well as molecular biology. Keri earned a $5,000 Bartlett scholarship that enabled her to study abroad at the University of Leeds in England where she gained knowledge in x-ray crystallography. 
This past winter Keri participated in the Water for Cambodia study tour and researched how to improve rural water sources. 
Not all of her time was spent in the lab. Outside of the academic world, Keri also took part in the BSU-sponsored Children's Physical Development Clinic, a nationally recognized academic program that fosters professional development, service learning, and leadership development.
"My involvement in educational outreach programs, community service, study abroad opportunities has molded me into the strong, compassionate woman I am today, which will prove to be advantageous as I move toward a career path heavily oriented toward being human and being able to form relationships and connections with a wide range of people whether they are going to be my patient or the loved one of someone in my care when I reach my goal of becoming a physician," Keri said.
Dr. Kristen Porter-Utley, dean of the Bartlett College of Science and Mathematics, said one of the things that makes Keri stand out is how she "owned" her education and participated in multiple opportunities both in and outside of the classroom. 
"She is a good example of a female scientist who has really taken advantage of what we have to offer in our college and at our university," Dr. Porter-Utley said. (Story by Heather Harris Michonski, University News)