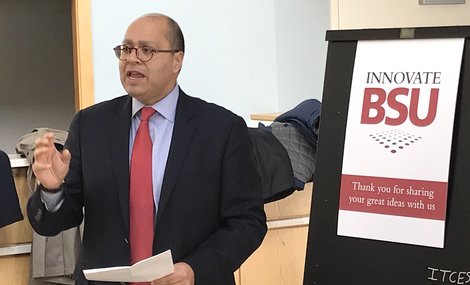 Story Series
News Feature
"This is an exciting day. We are here to celebrate innovation." With those words, Dr. Karim Ismaili, provost and vice president of Academic Affairs, kicked off a small get-together in honor of those involved in bringing forward six projects that earned funding through the new Academic Innovation Initiative.
The program was announced on opening day of the academic year, with the goal of finding, encouraging and funding innovative programs and approaches in teaching and learning. In all, 33 proposals were submitted. The chief criteria for the selection committee, Dr. Ismaili said, were new programs and projects that focused on student retention.
The projects selected to be funded through the Academic Innovation Fund, and those responsible for each, are:
1.      Fabricating an Interdisciplinary Bridgewater Makerspace: (Michael Black, computer science, and project team including Martin Grossman, Madhu Rao, Rob Lorenson, Nicole Glen, Robert Hellstrom, Robert Wilson, Jennie Aizenman, Susan Savill, Christopher Van, Kelsey Keefe, Robert Monteith) Bridgewater State University will invest in the development of a "makerspace," an innovative, interdisciplinary, collaborative space for hands-on experimentation and learning.
 
2.      Bachelor of Arts in Digital Music Production: (Donald Running, music, and John Krivit) The Department of Music will begin the study process to consider the creation of a new bachelor of arts degree in digital music production.
3.      Undergraduate Certificate Program in Teaching English as a Second/Foreign Language: (Alexandra Dema, special education) Launched in collaboration with the College of Continuing Studies, this initiative focuses on developing an undergraduate certificate program in teaching English as a second/foreign language (TESL/TEFL) and expanding educational opportunities for new domestic and international students at BSU.
4.      Aircraft Dispatcher's License: (Michael Farley, aviation science, and Michael Welch) The focus of this initiative is to support study and planning that will lead to the creation of a new aircraft dispatchers program.
5.      Transforming the PK-12 Classroom through Online Instruction Certificate Program: (Mary Connor, special education, and project team including Tracy Charbonnier and Patrick Latuca) Established in conjunction with the College of Continuing Studies, this project will train teachers to teach in a wholly virtual classroom, in a hybrid classroom, or traditional environment with an extensive technological skill set. 
6.      Math Readiness Boot Camp: (Matt Salomone, mathematics, and project team including Alicia Doyley, Donna Russo, Kathryn Crisostomo and Renee Bernier) The project seeks to promote the success of students placed into non-credited math readiness courses through increased academic support resources, along with intensive math skills building, embedded tutoring, and academic coaching. 
The hope is that the Academic Innovation Initiative will impact programs and practices across the university, Dr. Ismaili said.
"This is a way to re-imagine how we can be innovative in everything we do," he said.
Dr. Cindy Kane, special assistant to the provost for academic innovation, said the new initiative is succeeding in helping to bring "ideas off the shelf and into the sunlight."
"This is just the beginning," she said. (Story and photo by John Winters, G '11, University News)