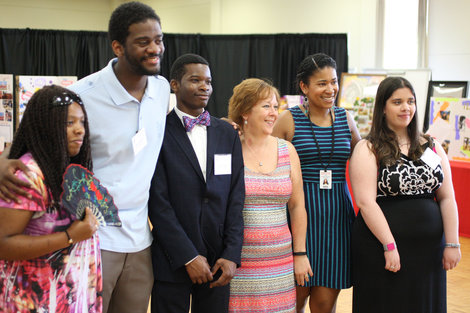 Story Series
News Feature
For the past ten years, Bridgewater State University has been home to the Inclusive Concurrent Enrollment Initiative (ICEI),  a fully inclusive postsecondary program for young adults with intellectual/developmental disabilities. 
The 22 students who spent the past academic year participating in the program were recognized during a Wednesday morning "end-of-year" ceremony with certificates and loads of applause.
This year they were also feted by Massachusetts Lt. Gov. Karyn Polito, who, like Gov. Charlie Baker, is a supporter. When speaking of the ICEI program, she quoted her boss: "When you find things that are working, keep doing it," Ms. Polito said.
She added that such programs are part of why Massachusetts has been rated by U.S. News & World Report as the number one state in the nation. The ranking was based on several factors, including the fact that nearly half of state residents have a college degree.
"As I travel this commonwealth, I think about what makes a strong community," the lieutenant governor said. "We have to make sure we have great schools. Great schools matter for every student."
 One section of the RCC ballroom was reserved for poster displays put together by the students, attesting to the things they'd done and learned during the year. On display were artwork, videos, photos and drawings, each telling part of a student's journey.
"I loved my 3-D art class," said student William Joy, who's excellent artwork was gathered around his poster, including a self portrait and pieces of sculpture. "Art is my favorite thing. It's my passion."
The ICEI participants take classes, participate in various activities, volunteer, and work as interns. Two of the ICEI participants even lived on campus, an aspect of the program BSU has pioneered. One of those students was Sean Meehan of Hanover. After he received his certificate for the year, he stepped to the podium to share a few thoughts.
"The experiences I've had here over the past year I wouldn't trade for anything in the world," he said.
See a video Sean made in his video class. 
Those who work with the ICEI program on a daily basis – Mary Price, director; Tina Raeke, coordinator; and Zack Chipman, job & career specialist – each spoke of the joy of being around the students.
"Each of the 22 students has been an inspiration to me, especially when it comes to breaking through barriers," Mr. Chipman said. 
Today, there are more than 200 programs nationwide similar to ICEI. Massachusetts alone has 15, of which BSU was the first. During the past year, the university's ICEI students studied geography, public speaking, art and physics.
Matthew Cobb of Norton served as an intern with the university's Office of Conference and Events, and studied and engaged in various sports.
"I really like it," he said. "I'm coming back next year and I'm very excited."
The ceremony's speakers also included Dean Lisa Battaglino and President Frederick W. Clark Jr.
The dean told the students: "I can't believe the amazing work that everyone has done this year. Thank you for teaching everyone that you are exceptional."
As for President Clark, he brought the welcome news that the commitment to the ICEI program will continue and even expand next year.
"I've seen you all around campus and I've seen those big smiles on your faces," he said. "Everything I see about this program is uplifting and for our students, especially, it's uplifting." (Story by John Winters, G '11, University News & Media)