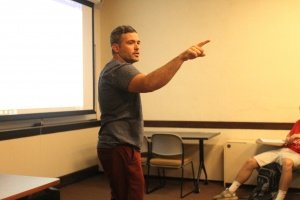 Story Series
News Feature
Dr. Justin Caouette begins his philosophy courses at Bridgewater State University talking about himself. Why? Well, it's a story to which many of his students can relate.
Growing up in the gritty, blue collar city of Fall River, he was a first-generation college student and didn't know anyone who had attended graduate school. His own academic journey first took him to Bristol Community College, then the University of Massachusetts-Dartmouth, and, ultimately, Bridgewater State.
"I wanted to have the same type of students as I was – a kid who doesn't come from generations of education," said Dr. Caouette, a 2008 Bridgewater graduate.
Now a decade later, he's back on campus, a place he credits with helping him find his passion. Initially a psychology major at Bridgewater, Dr. Caouette took Dr. Laura McAlinden's Philosophy of Human Nature course and fell in love with philosophy. 
"It was challenging in a way that other classes had not been," he said.
Students can't fudge their way through a philosophy class. It's obvious if they don't do the reading or don't truly think about what they contribute to class discussions, he said.
Along with the academic rigor comes lessons that serve students well in their future careers and life in general. Philosophy teaches them to be better communicators and team members, and be more thoughtful, Dr. Caouette said.
"Students should consider it because it gives you the skillset to be successful in whatever you decide to do," he said.
Philosophy showed Dr. Caouette the common ground among people of differing viewpoints.
"It's one thing to be good at doing something, it's another when you find a connection with yourself that you didn't know was possible," said Dr. McAlinden of what she saw in Dr. Caouette as a student. "I did enjoy watching him develop his intellectual self. There's a whole new way of looking at the world when you're educated broadly in the liberal arts."
After juggling a fulltime job and his BSU studies, Dr. Caouette worked at Bank of America for six months before realizing he missed the classroom. He then earned his master's degree at Washington State University and doctorate at University of Calgary. He praised BSU faculty for helping him navigate the graduate school landscape.
Back on campus as a lecturer, Dr. Caouette is teaching Foundations of Logical Reasoning. He was not nervous to step into a BSU classroom as a teacher rather than student.
"I was more excited to be able to interact with a student body I could relate to," he said. (Photo by Brian Benson, University News)