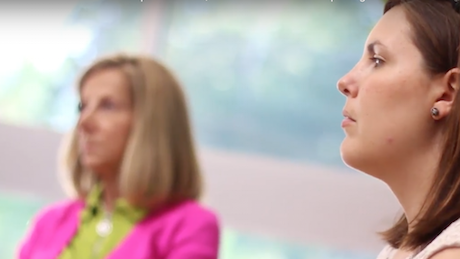 Story Series
News Feature
Take three graduate students who have never met, connect them online, and let each use his/her knowledge and skills to develop curriculum for a course about cancer. What does it add up to?
A new approach to an age-old practice.
When Dr. Phyllis Gimbel, professor of secondary education and professional programs, planned her course, Curriculum Development and Program Management, she wanted to make it as relevant as possible for her students. Despite the fact that the class was online, she had students work together to devise a curriculum for a hypothetical course on cancer.
"In the 21st century, most of the work that's accomplished is done in teams and by collaborating," Professor Gimbel said.
Jennifer Brown, Christina Sweeney and Dennis Lynch became a team. They teach in different disciplines – history, biology and guidance/health – and that is what made their final project "Stand Up to Cancer" unique.
It's pretty unique because all of it was online," said Mr. Lynch. "But that's kind of the way we're moving in education anyway."
The video below, produced by TVS, will demonstrate the work they did and how they benefited from it.