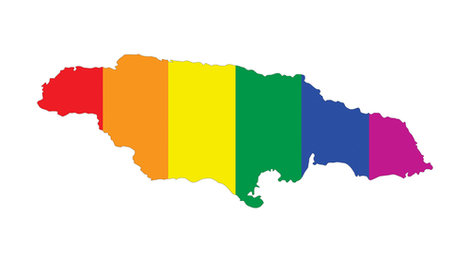 Story Series
News Feature
The growing movement to fight discrimination and violence against LGBTQ people in Jamaica comes alive in a new documentary produced by anthropology Professor Diana J. Fox.
A screening of Many Loves, One Heart: Stories of Courage and Resilience was held Tuesday in the Moakley Auditorium. It was followed by a student-led panel discussion,
The 18-minute documentary, which Dr. Fox co-directed with filmmaker Sarah Feinbloom during a three-week visit to Jamaica in 2016, describes the rampant homophobia that has afflicted the Caribbean nation and tells the stories of activists struggling against it. The film includes footage of Jamaica's first LGBTQ Pride Week, held that year.
The documentary builds on other field work Dr. Fox has done in Jamaica and other Caribbean nations over the past three decades, and in particular her research into resistance to societal norms imposed on gender and sexuality. She created a previous documentary on her work in Trinidad in 2015.
While bias and hostility toward LGBTQ people in Jamaica has gained some attention in the United States, "there has also been a movement for change the past few decades and it has seen some success," said Dr. Fox, who chairs the Department of Anthropology. "I decided to really focus on that."
"The situation is better because people are fighting to improve it," Dr. Fox said of conditions for LGBTQ people, crediting in particular the work of J-FLAG (Jamaica Forum for Lesbians, All-Sexuals, and Gays), a civil rights organization with which she worked on the film.
Tuesday's panel discussion, "Global Movements for Gender and Sexual Diversity - The Right to Love Freely," will be led by students who took Dr. Fox's course last year on gender diversity across cultures, several of whom have been involved in BSU's Pride Center.
"I wanted to give them a platform to share their ideas and experiences," she said. (Story by John Laidler for University News)