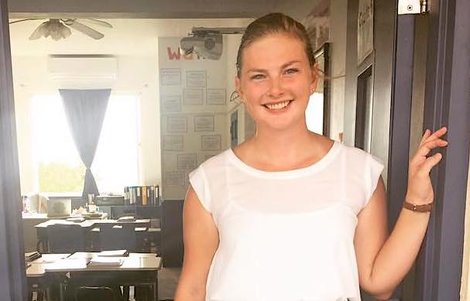 Story Series
News Feature
Many Antiguan students only know life on the tiny Caribbean island. So, Emily Wiegand, '17, is on a mission to bring the world to them.
Ms. Wiegand is an English and social studies teacher at Island Academy International, which serves natives of Antigua and Barbuda as well as students from other countries. She incorporates readings and perspectives from throughout the globe into her lessons.
"In general, what I try to instill in them with what we read and do is just the idea of acceptance of everything, tolerance of everything," she said.
Her educational philosophy is no accident. It mirrors the things her instructors at Bridgewater State University and Wachusett Regional High School taught. Dr. Allyson Ferrante, a BSU assistant professor of English, taught her that there is an incredible amount of diversity in literature if one looks beyond the traditional Great Books.
Meanwhile, Wachusett teacher Jason Hilton always taught multiple perspectives on history. World War II, for example, is not just about the U.S. helping defeat the Nazis, but also the Stateside internment of Japanese Americans.
"He opened my eyes to an entirely different side of history than I had heard," she said.
Ms. Wiegand has always known she wanted to teach. Bridgewater, with its longstanding reputation for producing top educators, was her clear choice when it came time to select a college. 
On campus, she took photos for the student-run newspaper, The Comment , and was president of the Honors Student Congress, which organizes events such as blood drives. She majored in English and minored in secondary education and Latin American and Caribbean studies. 
Ms. Wiegand received a Bartlett Scholarship for her academic achievements and took full advantage of BSU's opportunities for travel. She ventured to Haiti, Jamaica, the Dominican Republic, New Orleans, Seattle and Chicago – mostly for conferences. She also worked as a student-teacher in Ecuador. Those journeys helped her feel comfortable traveling on her own. 
The Antigua position came up somewhat by chance. Ms. Wiegand was looking for a teaching job and her fiancé wanted to attend medical school. Antigua offered both.
"I could not be happier," she said. 
Her students speak English, but teaching in Antigua presents other challenges. School supplies can be scarce and online access is spotty.
"Sometimes the Internet goes out and you're back to doing things 'old school' on a whiteboard," she said.
Ms. Wiegand, who is entering her second school year working in Antigua, hopes to eventually teach in an inner-city school and become a professor.
No matter where she ends up, she will strive to create a nurturing environment for her students, just like she experienced at Bridgewater.
"The faculty and the support you have as a student at BSU are just incredible," she said. "It felt like every professor wanted you to do great." (Story by Brian Benson, University News)