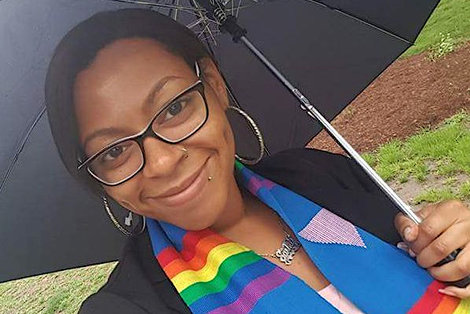 Story Series
News Feature
When Jackson's Center for Leadership, Advocacy, and Supportive Services Inc. helps people facing homelessness, CEO Sasha Heggie-Jackson, '16, can relate to what they are experiencing.
Ms. Heggie-Jackson, 30, overcame homelessness herself about six years ago.
"I know what it's like to need help and not know where to go," she said. "A lot of what I've been through has helped me want to give back and educate others. … Being able to help someone else who may be experiencing something similar is really rewarding."
That goal of assisting others inspired Ms. Heggie-Jackson to start the nonprofit Jackson's Center for Leadership, Advocacy, and Supportive Services Inc.with her wife, Patricia Jackson. 
"My wife and I last summer were thinking about the Brockton community and saw a gap in services," said Ms. Heggie-Jackson, who began her higher education journey at Massasoit Community College. "There's an overwhelming amount of families that are in need."
The multi-faceted organization, which is focused on the Brockton area, collects school supplies for children and runs programs to educate people on topics such as eviction prevention. It also strives to provide a safe space for people of varying genders and sexualities. She hopes her organization expands elsewhere in Southeastern Massachusetts.
Ms. Heggie-Jackson, who spent much of her youth in Brockton, earned a bachelor's in social work from BSU and is attending graduate school at Wheelock College. She is also an LGBTQ sexual assault counselor for Health Imperatives, which works with Bridgewater State.
She praised professors in BSU's School of Social Workand the Pride Center for supporting her.
"I had some pretty remarkable professors in the social work department who let me know the possibilities were endless," the Providence, R.I., resident recalled. Even when she thought she couldn't do something, she said: "They continued to push me and challenge me."
While Bridgewater State faculty supported and encouraged Ms. Heggie-Jackson, she has always had a desire to help others.
"It's almost like social work is in your blood," she said. "You don't choose it. It chooses you." (Story by Brian Benson, University News)