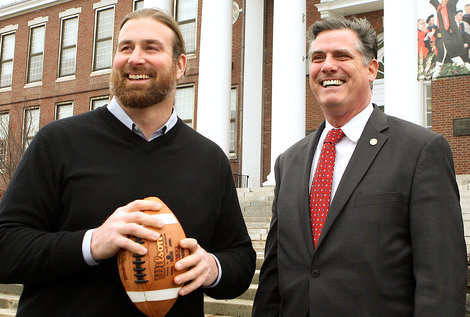 Story Series
News Feature
The Light Foundation is expanding its relationship with Bridgewater State University by raising funds through its Lighthouse Raffles for exclusive sporting events in Boston during the month of April.
Light Up BSU, a fundraising initiative organized by former New England Patriot Matt Light's foundation, is running through the month of March.
The drive will benefit the Light Foundation, its annual Leadership Conference for youth in the region that's held at BSU, and the BSU Foundation, which provides donations for a number of impactful student support initiatives such as scholarships, paid internships, undergraduate research and study abroad.
The Light Foundation provides unique outdoor learning experiences to assist youth with reaching their highest potential by leading young people down a path toward becoming responsible members of their communities.
"We are excited to be partnered with BSU once again and we look forward to our Leadership Conference in 2018," said the retired offensive tackle, who played his entire 11-year career in New England.
"Bridgewater State University has a number of initiatives to address the educational needs of children in the region's Gateway Cities, such as the Bridge Program, an in-residence summer program for rising seventh and eighth graders, so the partnership with Matt Light and his foundation was a natural for us," said President Frederick W. Clark Jr.
Light Up BSU offers the Amazing April raffle of high-end sports tickets that offer the four winners the ultimate Boston sports experience. The four prizes are:
Two tickets to a first-round Celtics playoff game featuring seats located 10 rows behind Coach Brad Stevens and access to The Legends Club before, during and after the game.
Two Bruins first-round playoff tickets located at center ice in the loge section of TD Garden with access to The Putnam Club and a $200 gift certificate to Ray Bourque's North End restaurant, Tresca.
Two tickets to the April 10 Red Sox, Yankees matchup that features access to the private Wheels Sup Clubhouse prior to the game.
Exclusive finish-line passes to the Boston Marathon on April 16 complete the raffle offerings.
Donations of the Celtics, Bruins and Red Sox tickets were made possible by a Bridgewater State University alumnus.
For more information about the raffle, visit www.lightupbsuraffle.com.