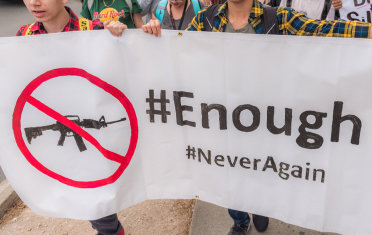 Story Series
News Feature
After the Marjory Stoneman Douglas High School mass shooting in Florida, Bridgewater State University student Kathleen Purple, '20, was looking for a way to speak out on campus.
Kathleen couldn't find an event, so she organized her own – a walkout – which she put together with help from fellow student Candice Sullivan, '18, and others.
"I hope people were inspired and that they talked to each other and find common ground," she said.
The walkout, held Friday on the 19th anniversary of the Columbine High School shooting, coincided with other walkouts around the country. It brought dozens of people to the Martin Richard statute in University Park to listen to speeches, register to vote and advocate for change.
"Nobody here is here today to take away the Second Amendment," Candice, who is from Dover, told the crowd. "We are here today because we want common sense gun laws."
Students, spurred into action after the Stoneman Douglas shooting, are not letting their message of change go, said Kathleen Berry of Moms Demand Action for Gun Sense in America.
"The students have turned their pain into power," she said.
Regardless of people's viewpoints, it is important to practice "muscular citizenship." That means more than just voting in elections, said Kelly Brotzman, executive director of the Martin Richard Institute for Social Justice.
"It is precisely about becoming an advocate, about finding your voice and using your voice to demand the things that you believe in," Dr. Brotzman said.
Emma Johansen, '19, of Milford, brought a sign advocating for change and proclaiming: "At least give teachers school supplies first," before guns, which some politicians and the National Rifle Association have spoken in favor of doing.
Emma said she hopes students get more involved. After all, they can make a difference, she said.
"When we look back at our individual and collective legacies, would we rather say we defended our personal interests to the detriment of the population or that we saved countless lives by working for a greater good?" said Kathleen Purple, who was in high school when the Columbine shooting occurred and lives in Bridgewater. "Simple yet powerful acts like effective communication across viewpoints and exercising our right to vote are keys in our hands. Use them." (Story by Brian Benson; photos by Ezechiaste Pompilus, '19, University News)